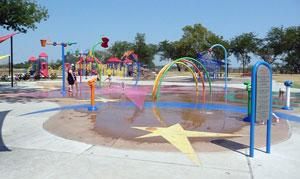 Progress, Prosperity, Places to Play! That's the theme of the City of Fayetteville's outreach effort to educate the public about the upcoming Parks and Recreation Bond Referendum. Voters are being asked to approve a $35 million package for several projects during the March 15 North Carolina Primary Election.
A post on the city's website (www.FayettevilleNC.gov/ParksBond) about the referendum reads: "A citywide bond proposal would enable us to build outstanding new facilities to provide city residents throughout the area with affordable, close-to-home options for recreation, sports and entertainment."
The website provides an outline of the proposed projects as well as voter and ballot information. A page of frequently asked questions is included. Missing, however, is an explanation of financial details such as an amortization timeline, projected interest and total tax cost. The tax increase necessary to fund all the projects is $0.0135 per $100 of assessed property valuation. That translates to $16.98 a year for a home valued at $126,000, or as the city tells it, the cost of a two-liter soft drink bottle per month. At the request of Up & Coming Weekly, city officials said the bond debt would be retired over 20 years at an anticipated 5 percent interest rate. That is not included in the information online.
The Fayetteville City Council came up with the list of projects after several weeks of discussions and utilizing the findings of a citizen survey. The bond package includes two senior centers, a tennis center, sports field complex, two skateboard parks, a Cape Fear River Park, seven splash pads and improvements to seven existing parks. All facilities are within the city limits. Here's is a detailed explanation of the projects:
Senior Centers. Two full-service facilities, one of which tentatively would be built on Lamon Street downtown. The other is to be located along Raeford Road in West Fayetteville. The city says exact locations have not been identified. Key features would include libraries, video rooms, classrooms, art studios, dance studios, a fitness space and a meeting room. The combined costs are estimated as $10 million.
Tennis Center. It would be built at Mazerick Park for players of all ages and ability levels. It would include four clay courts and 13 hard courts, plus a tournament championship court with seats for 1,000 spectators and a 10,000 sq. ft. pro shop. The estimated cost is $6 million.
Sport Field Complex. A multi-purpose complex to be located on city-owned property on Fields Road off Cedar Creek Road that would include two lighted youth softball/baseball fields, two lighted youth softball/baseball fields with synthetic turf, two lighted adult softball/baseball fields, two lighted adult softball/baseball fields with synthetic turf, five soccer/football fields, two soccer/football fields with synthetic turf, three picnic shelters with BBQ grills, two children's playgrounds and an 800-meter walking trail. Also included is a proposed 10,000 sq. ft. clubhouse. The cost: $9 million.
Skateboard Parks. One large in-ground concrete facility to serve the entire Fayetteville-Cumberland County region, and two mini parks. The larger park would provide a challenge for more advanced skate boarders. The mini-locations would be designed for novice skaters. The larger facility would include two parks at Robeson and Commerce streets for novice and advanced skaters. A novice park would be built at Westover Recreation Center. The total estimated cost is $1 million.
Cape Fear River Park. An urban riverfront park near downtown to provide passive river specific recreational activities. The exact location is to be determined. The city says it would be on the Cape Fear River bordered by Person, Broad and Grove streets. The park would include a boardwalk, access to the riverfront, boat docks, picnic shelters, trails and public open space with an estimated cost not to exceed $5.2 million.
Splash Pads. Six of them would be located at existing recreation centers, including Cliffdale Recreation Center, E.E. Miller, Gilmore Therapeutic Center, Kiwanis, Massey Hill and Myers Park Recreation Centers plus an additional location to be determined. One possible site could be Festival Park in downtown Fayetteville.
Each location would include 2,000 sq. ft. zero depth splash pads and several water features which use recycled water. The total estimated cost for all seven locations would be $3 million.
Existing Park Improvements. Seven parks would be upgraded to include the renovation of some existing buildings and various park grounds. Among the projects are improvements to J. Bayard Clark Park & Nature Center, the Dorothy Gilmore Therapeutic Park building, Brentwood School Park, Massey Hill Recreation Center, Martin Luther King Jr. Park, Mazarick Park and Seabrook Park. The estimated total cost is $800,000.
The referendum form will not allow voters to pick and choose selected projects. It's a yes or no, all or nothing proposition. The city says some of the facilities included in the bond proposal would be able to operate with little or no additional operating funds. But, says the city, it's important to note that membership costs and entrance fees may be required. Memberships would be offered at different levels (family, couple, senior, etc.), and daily passes would be available for those who go less often or could not afford yearly memberships. In addition, officials believe the new facilities would be available for school athletic programs as well as recreation activities. Also, the facilities would have the added economic advantage of job creation, and would provide other opportunities for generating revenue through tournaments, swim and track meets, and other rentals for a wide range of public or private events. Attracting competitions and other events would lead to additional revenue through hotels stays, restaurants, retail locations and local attractions.