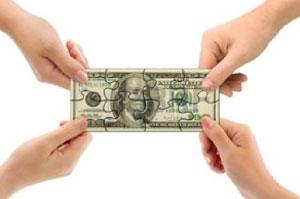 City & County Settle Tax Differences, for now
Individual members of Fayetteville City Council and the Cumberland County Board of Commissioners spent the last few weeks hammering out a local tax agreement. Senior staffers joined in the discussions. Council members agreed with commissioners to renew the current sales-tax distribution agreement for three more years.
"We're just kicking the can down the road again," said Councilman Bobby Hurst.
He said commissioners made no attempt in recent years to work out an extension to the agreement that is expiring this year. The inter-local agreement entered into 13 years ago will remain in effect until June 30, 2019. The towns of Spring Lake, Hope Mills, Stedman, Wade, Falcon, Godwin and Eastover are also parties to the arrangement. Part of the deal requires that city and county leaders begin negotiating a new sales tax distribution agreement no later than January of next year.
At stake is the future of local sales-tax distribution. County government has the authority to select one of two methods. The method currently in use tends to favor the municipalities. But all parties agreed to it, as well as a 50 percent rebate of city sales taxes to the county in areas annexed by Fayetteville in recent years. The rebate is the heart of the issue. City Council wants to phase it out and retain all sales-tax proceeds received via the population method. The county threatened to adopt the method that distributes revenue by tax district. It would benefit the county and financially hurt the city and towns in Cumberland County.
"We owe it to our citizens to come up with a practical solution," said Mayor Pro-Tem Mitch Colvin. He was one of the city's negotiators. "It would be political suicide" for commissioners to make any changes, he said, noting that most of the county's voters live in Fayetteville and the small towns. "We need to send a clear message to the county, that we won't be caught flat-footed again," he added.
Councilman Ted Mohn pointed out that ad valorem property revaluation will be done later this year. It could complicate matters for all local governments because, typically, property tax rates are adjusted depending on the outcome of the appraisals. County Commission Chairman Marshall Faircloth has said for the first time in modern memory, property values are down significantly. His hope is they will rise during the summer, lessening any operating deficit that would possibly result in tax increases. Councilman Jim Arp joined Mayor Nat Robertson in voting against the new sales tax agreement.
"This open-ended agreement is not fiscally responsible," said Arp.