Details

Written by

Dr. Shanessa Fenner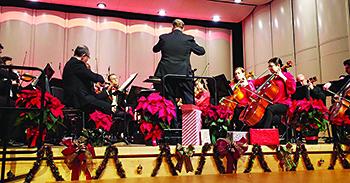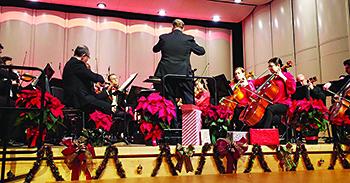 The Fayetteville Symphony Orchestra presents their Brass Ensemble in a festive concert, "Holiday Brass." This performance will be on Friday, Dec. 9 at 7:30 p.m. at Haymount United Methodist Church on Fort Bragg Road.
"This event is an opportunity for the community to get into the holiday spirit with the Brass Ensemble here at the Fayetteville Symphony," said Meghan Woolbright, marketing and office manager of the Fayetteville Symphony Orchestra. "Selected pieces include Tchaikovsky's Suite from the Nutcracker, Leontovich's Carol of the Bells and Christmas holiday favorites such as Little Drummer Boy, O Come, O Come Emmanuel and more."
Other selected pieces include the holiday classics like Victor Herbert's March of the Toys, Claude Debussy's Footprints in the Snow, Johann Sebastian Bach's Christmas Oratorio No. 62 "Now may your proud foes be afraid," and Gustav Holst's Christmas Day.
The music director of the Fayetteville Symphony Orchestra is Stefan Sanders. Prior to coming to Fayetteville, Stefan was one of five featured conductors at the League of American Orchestras "Bruno Walter National Conductor Preview."
"He is also the musical director for the Central Texas Philharmonic and has been with us since 2017," said Woolbright. "He brings a lot of energy to the performance whereas a lot of music directors have that stone cold face, but he is full of energy and we are lucky to have him here with us."
"We have quite a few local musicians in the Brass Ensemble from here, one coming out of Winston-Salem, Myrtle Beach and Charlotte," Woolbright told Up & Coming Weekly. "I know that it is going to be an excellent performance."
The Fayetteville Symphony Orchestra was founded in 1956 in Fayetteville. It is a professional regional orchestra whose mission is to educate, entertain and inspire the citizens of the Fayetteville, North Carolina region as the leading musical resource. Praised for its artistic excellence, the Symphony leads in the cultural and educational landscape for Fayetteville and the southeastern North Carolina region.
"We are really excited to share the holiday spirit with our community," said Woolbright. "Please come out and enjoy this festive and fun performance."
This is a season concert performance so season ticket holders can attend. The 2022-2023 season has a total of seven concerts. This will be the third concert of the season.
For those who are not season ticket holders, they can buy tickets for $32. Tickets can be purchased on the Fayetteville Symphony Orchestra's website and at the door the evening of the event.
The box office opens one hour prior to the concert and the pre-concert talks begin 45 minutes prior to the concert.
Seniors, military and Cumberland County School employees receive 20% off for their ticket. College student tickets are $8. Children tickets are $5.
For more information call (910) 433-4690 or visit www.fayettevillesymphony.org.