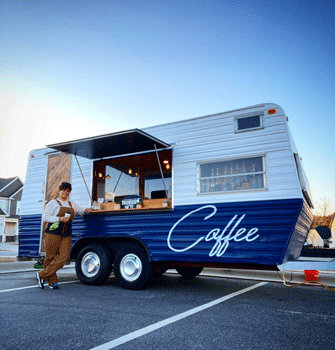 When it comes to Cool Spring Downtown District, there is a new kid on the block.
In the spot formerly occupied by The Coffee Cup, 108 Hay St., Vagabond Café is putting down roots.
The owner, Nancy Ramos, was bit by the coffee bug while working as a barista in a popular coffee chain during her undergraduate college days. She participated in coffee tastings, read up, attended more training all in an effort to make the best cup of coffee.
Coffee is her passion.
Ramos was a coffee enthusiast in college, but it wasn't until 2019 that she bought the espresso machine she uses now. Six months after the purchase she started her company. When the opportunity arose to buy a camper van she took a chance.
She then turned it into the mobile Vagabond Café.
By January 2021, she was working her business full time.
Luckily for Vagabond Café the business was not really impacted by COVID-19.
"We are mobile, so no one was coming into a shop," Ramos explains.
Ramos' dedication to the perfect cup of coffee is not just lip service.
Her coffee beans are single source, direct trade produce, and Ramos has close relationships with everyone from the farmer to her roaster. This ensures a high quality, fresh cup of coffee every time.
She is passionate about the process.
"I like the coffee itself and the science behind it," Ramos said. "It is a lot more than brewing coffee. Different regions roast coffee beans to bring out the notes the coffee was meant to have. I like the interaction," Ramos said. "I sell an experience people cannot get anywhere else."
Ramos's coffee beverages are unlike any other coffee served on Hay Street now. Her Mexican heritage is the inspiration for some of her coffees.
Utilizing ingredients and flavors familiar to her such as those she imports from places such as Teocaltiche in the Mexican state of Jalisco.
She has created specialty drinks such as "Frida" which is a hibiscus tea and cold brew. Her mother passed down a recipe for "Horta" which is popular. The drink is milk-based with cinnamon and espresso.
Ramos strives to use authentic ingredients. "I also use Mexican cinnamon, "said Ramos. She will also have pastries available in the shop and is currently talking to a
local baker.
"We love seeing our vendors leap from mobile units to storefronts," said Bianca Shoneman, CEO, Cool Spring Downtown District.
"When we set out to host the District Summer Market, we designed it to be an incubator for our vendors so they could move up the entrepreneurial food chain," Shoneman said. "It's a pleasure to see Nancy grow in her business, especially in downtown Fayetteville."
When asked if she will continue to use the camper, Ramos said very enthusiastically, "Absolutely, it is the heart of the company."
Ramos views her company as a great success.
"It isn't all about the money," explained Ramos. "It makes me happy to change people's mindset about wanting specialty coffee."
Bringing her Latin heritage to the Cool Spring Downtown District is something Ramos finds very exciting.
There will be 2 – 3 employees working hard to create scrumptious beverages for Vagabond's patrons.
Vagabond Café's grand opening will be Nov. 5. The shops hours of operation will be Monday — Saturday from 7:30 a.m. — 6 p.m.