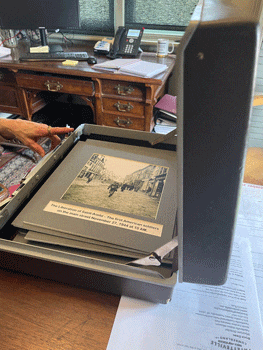 A bond that began to form in the early 1980s and solidified in the early 1990s is finding life again nearly four decades after making the first connections. The Lafayette Society has handed the reins of Fayetteville's International Sister City over to a new organization, the Fayetteville Saint Avold Friendship Alliance (FSAFA).
Saint Avold is situated in the Lorraine region of northeast France and is just seventeen miles from the border of Germany. The town is just south of the largest World War II cemetery, the Lorraine American Cemetery and Memorial. This location is considered American soil, and the American Battle Monuments Commission (ABMC) oversees its operations. ABMC, created by executive order in 1923, is an agency of the federal government's executive branch. On this land, an ocean and many miles away, a son of Fayetteville is buried, a man who made the ultimate sacrifice for his country, Pfc. William M. Shaw, Jr. Shaw was killed in action overseas on September 12, 1944. His sister Gillie Revelle, who is nearing 90 years old, is still in Fayetteville, explained FSAFA President Kris Johnson. Johnson sits at a large wooden desk in Town Historian Bruce Daws' office at the Fayetteville Area Transportation and Local History Museum. On the desk in front of her is a vintage diplomat-style briefcase circa possibly the early 1990s full of display board photos from Saint Avold events and displays in the past. This briefcase symbolizes the passing of the baton for the Sister City Program to FSAFA. Former Lafayette Society President Hank Parfitt passed these items on to Johnson when she stepped up to reinvigorate the connection between Fayetteville and Saint Avold.
Johnson has quite a tale about the long-standing relationship between the two cities.
The program began with the late Martha Duell, former Lafayette Society president and described by Johnson as "a true ambassador" for Fayetteville. Duell caught wind of a repair needed for a statue of the Marquis de Lafayette in Lorraine in 1981 and offered support. This act of support on Duell's part sowed the seeds of connection. When a delegation of bicyclists from the Lorraine region began to plan a trip to cycle from Washington D.C. to Fayetteville in 1986, it was recommended they reach out to Duell. In addition to the cycle trip, the group contacted the Lorraine American Cemetery and Memorial for help identifying a North Carolina soldier buried there, one they might be able to honor during their trip. The cemetery superintendent gave them Shaw's name. With approval from the cemetery, they collected soil from Shaw's grave. The bicyclists mixed this soil with sand from Omaha Beach in Normandy. When they arrived in Fayetteville, with Shaw's family in attendance, they spread the soil and sand at the marker in Cross Creek Cemetery that honors Fayetteville's "sons who never returned home from the war," explained Johnson.
This act of kindness and connection was Duell's inspiration to connect Fayetteville and Saint Avold. On September 27, 1993, former Fayetteville Mayor J.L. Dawkins and the City Council signed a resolution uniting the two International Sister Cities. In 1994, Saint Avold renamed the street in front of the Lorraine American Cemetery and Memorial, Avenue de Fayetteville. Over the years, groups of people from both cities have visited in delegations to maintain the relationship and uphold cultural exchange.
Students in Cumberland County Schools have participated in pen pal programs with Saint Avold. And in 1997, signs were posted along Interstate-95 declaring the cities' sisterhood.
Johnson feels the time has come to reconnect and reinvigorate the program.
The first event for the newly founded group was a trip to see an Alphonse Mucha exhibit at the North Carolina Museum of Art in Raleigh, followed by a lunch at French restaurant La Coquette. FSAFA is not stopping there. It has many more events in the planning stages for the upcoming year.
The group, which is a nonprofit working to gain their 501(c) designation, uses funds for two functions, education and administration. Sales from a published book of Shaw's letters home during WWII, "Letter's to Home, a Soldier's Story," helps support FSAFA's educational pursuits. Proceeds from an upcoming yard sale will support their administration costs.
This yard sale has been dubbed the first annual Great French-American Yard Sale and is scheduled for March 12. It will be held at 121 Devane St. from 7 a.m. to 1 p.m. The yard sale will have a variety of furniture, housewares, kitchen and cookware, home décor and much more.
In addition to the Great French-American Yard Sale, plans are in the works for a French cheese and wine tasting event and a possible French cookery and baking class at Fayetteville Technical Community College.
FSAFA membership for this first year is free, and dues will be a nominal fee moving forward.
Memberships will include discounted group rates for events and outings. Interested parties are encouraged to reach out to the group by emailing faync_saintavold@yahoo.com or like the Facebook page, Fayetteville – Saint Avold Friendship Alliance.