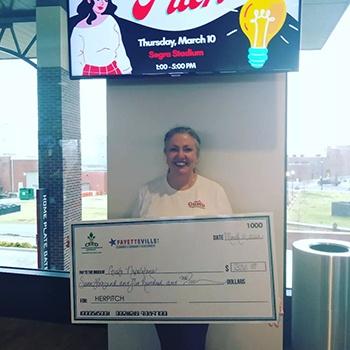 Nadia Minniti, the owner of Gusto Napoletano, never expected to leave Segra Stadium last week with funding for a food truck, but she did.
Minniti was one out of eight women who pitched their ideas to the Women's Business Center of Fayetteville at the Center for Economic Empowerment and Development and the City of Fayetteville for a chance to win up to $10,000 in grant funding. The eight competitors presented their businesses and ideas to a group of judges at Segra Stadium last Thursday in an event called #HERPitch.
#HERPitch was one out of five themed events throughout the week that helped celebrate, recognize and support local women business owners and employees.
Minniti said this theme of supporting each other continued throughout the competition.
"You think that eight women competing for this money, the atmosphere is going to be like we are going to be at each other's throats. I was so surprised. We were supporting one another. Helping adjust each other's crown," Minniti said. "We were giving each other advice and helping each other out. Yes, we were all there competing, but you didn't feel the competitiveness of us competing with one another."
Three women total were awarded checks. Evolv Dezigns won a check for $2,500 and Joy in Learning Discovery Center was awarded a check for $1,000.
Minniti won the biggest prize, a $7,500 check. Her plan for that money is to buy a food truck with a customized wood-fire oven in the back to make authentic Neapolitan pizza, the only food truck in North Carolina, to Minniti's knowledge, that would do so.
"I am very grateful and happy that CEED is there for us women because this is still a man's world - especially in the restaurant industry and the pizza world. There are very few women in the pizza world still. I am one of the few women in the world that is certified to make Neapolitan pizza."
Minniti opened Gusto Napoletano in Sept. of 2019. She said she only survived the pandemic because she started small with a small staff and a limited menu. While that has helped her survive, she wants to get more recognition in town and have more people eat good pizza.
"There's no food truck that has good pizza in Fayetteville. The market is there," Minniti explained. "Well if we want to increase our sales and continue to grow, getting a food truck is the cheapest way to do that. It will also increase my exposure out into the community."
With the grant from CEED and the City of Fayetteville, Minniti believes she could have this food truck up and running in a year.
Minniti said she would be excited to see this type of event happen again in the future to help support other women in the community.
"There are a lot of women who have great ideas and sometimes they need a sounding board to bounce this idea off and maybe get funded for them.
There are a lot of valuable businesses that can positively contribute to society, especially in Fayetteville. CEED and these types of events are a great asset to this community,"
Minniti said.