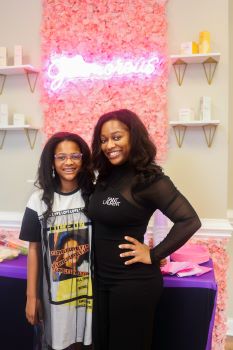 If you've ever gone to a nail salon or had a spa day, I'm sure you notice how your mood and self confidence boosts after experiencing that small act of self care … now just imagine what that would've been like to have that feeling as a kid.
Zoë Noelle's Princess Spa and nail salon is a unique pink oasis that gives kids a chance to have that feeling of luxury and princess treatment, right here in downtown Fayetteville.
Zoë, a pageant winner, model and now business owner, is a kid who has been going to salons with her mother since the age of 2.
She's always enjoyed playing dress up in her mom's make up and clothes, and has had a sense for luxury as she's grown up. At just the age of 11 she's been able to realize how going to nail salons and spas has been a huge impact on her self confidence, and now wants to share that with other kids who she feels deserves that same experience.
Up & Coming Weekly had a chance to visit Zoë's new spa and speak with her and her mother Dr. Shenae Whitehead about how important this business is for their family and the community.
Shenae says, "As adults we always try to give our kids the things we didn't have growing up. Zoë has been able to experience a lot of different things being by my side for the majority of the time. Since I have my own business as well, I wanted to give Zoë the opportunity to work for herself and leave a legacy for her."
Zoë says, "Many adults haven't experienced luxury as children, they had to grow up just to experience it. I think kids should have that because it introduces you to new things, and even helps with your creative mind set. You can look good, but you have to feel good too, it's all a part of a mind set."
Shenae's business is in psychology, where she owns three practices and oversees a number of psychologists who work with clients. Her background in psychology has rubbed off on Zoë, and they are able to intertwine their love for mental health and self love at Zoë's Princess Spa.
"For one of my practices, Zoë led a discussion group for middle school girls, where she was able to discuss her anxiety and things she's gone through, she's very open and honest with her feelings. We want to do more discussion groups paired with Zoë's spa to open the doors for kids her age to be able to talk to each other and express themselves," Shenae says.
Zoë and her mom don't plan on just stopping there when it comes to connecting with the youth. Inside the salon is a shelving area that showcases tons of accessories and products made for kids, and some even by kids.
They're also teaming up with a local bath bomb brand to sell them in the salon, as well as kid-friendly skincare products.
Shenae says "We wanted to use this opportunity for Zoë to make relationships and partnerships with other young entrepreneurs in the city. It's important for kids her age to support each other, especially with their businesses."
Zoë and her mom make sure to have high quality items for the customers to use and have while visiting their Spa. They also make sure to use vegan products to better accommodate all skin types.
"Everything from the spa robes, to the nail polish, are things we would personally use as well. We didn't want to cut any corners on quality, and give everyone the same experience we would want to have visiting other places," says Shenae.
It's hard to miss the Spa walking down Hay Street. You can look through the glass and see faux clouds hanging from the ceiling, bright pink trees by the service stations and a neon sign that reads "Glamorous."
Shenae and Zoë are making an impact in the community with the shop already. They chose to partner with some high schools in the city to hire young girls of color, to give them proper working experience before entering the work force as a full adult.
At times, women of color are overlooked in the workplace, or even overlooked in terms of the hiring process. For Zoë and her mom, hiring and showing young girls who look like them that they can work in comfortable environments and be business owners too was an extremely important goal to achieve when opening this Spa.
Salon services at the Princess Spa include basic manicures, pedicures and facials for kids and adults. Parents can bring their kids for a special bonding experience, or just routine nail maintenance at an affordable price.
They even offer princess treatment packages that include a massage with scented lotion, a robe to wear, snacks and more.
Zoë's Princess Spa offers birthday and spa party packages along with their regular salon services.
If you want a group of kids to get the full spa experience, Zoë has you covered. The party packages offer everything from tea table set ups, to robe and slipper sets. They even include a parent lounge, custom gift boxes and tiaras for the guests.
Zoë Noelle Princess Spa is located at 321 Hay Street and is open from Tuesday through Saturdays from 10 a.m. to 7 p.m. and Sundays noon to 6 p.m. The shop is closed on Mondays.
To view their full services and packages visit their website znprincessspa.com. To contact and book for parties and rentals contact them at znprincessspa@gmail.com or give them a call at 910-500-3134.