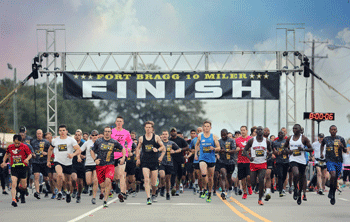 The Fort Bragg 10-Miler event is officially kicking off this week after several cancellations over the last two years due to the pandemic.
The run's goal is to encourage a healthy lifestyle not just among soldiers, but with family and people outside of the military community as well.
Jennifer Fayson, the Fort Bragg special events coordinator, said that they are excited to hold the event, especially since this run was initially canceled earlier this year and the All-American Marathon was canceled.
"It's our first big event since 2019. You know, it's a fun event for the troops and for their family," Fayson said. "They're able to go and participate in something fitness-wise and actually increase the morale of the base."
One registrant who has already started training for the run is 2019's 10-Miler winner, Capt. Daniel Schlich. As of last week, Schlich was running laps at the Hedrick Stadium on base.
"So starting about four or five months out, we run. I start out probably about 40 miles a week, get up to about 60 or 70 miles a week, running six days, seven days a week," Schlich said.
Schlich says he is hoping to run the 10 miles within 52 minutes. In 2019, he ran the race at 52 minutes and 20 seconds. That means he averaged five minutes and 14 seconds for every mile.
Fayson however says this race is open to everybody, not just the people with speed and a great run history.
"We also have people with strollers out here, people that bring their kids out here. So it's all ability levels," Fayson said.
For those who are just starting, or may be interested in running the 10-miler for the first time, Schlich says that it's all about your mindset.
"I would say pacing is probably the biggest thing because most people, if you haven't ran too much or you haven't been running recently, you got kind of a race mindset. Everyone starts out really fast and you just go way too fast and burn yourself out. So you really have to pace yourself," Schlich said.
The race will kick off on Nov. 6 at 8 a.m. Registration for the race closes, Nov. 5, 7 p.m. and there will be no race-day registration.
So far, over 600 people have signed up for the race, but there is space for up to 1,500 people to register.
"I'm eager to get back out there, run a race with other people," Schlich said. "Being able to have a crowd outside, you know, cheering you on to do your best."
The race will start at Sports USA and runners will go down Long Street, go down Gruber Road, turn around and come back and finish. For those who just want to watch the event, there will be music and a 'finish fest' for those who finish the race. Fayson warns that roads will be closed for a majority of the day starting at 6 a.m., so people will be asked to park at the Womack Hospital parking lot and then walk over to the run site.
Registration will include an event t-shirt, a finisher coin and a tab for a free beer.