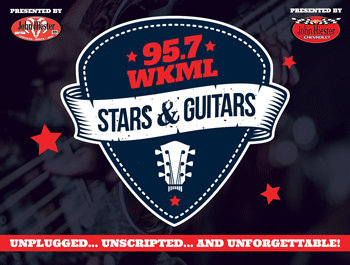 The biggest country music event in Fayetteville, Stars & Guitars, is returning. The Unplugged, Unscripted, and Unforgettable lineup will take the Crown Coliseum stage on Monday, Nov. 15.
The lineup includes legendary country superstar Clay Walker, Scotty McCreery, ACM and CMA award-winner Carly Pearce, and rising stars Matt Stell, Tenille Arts and Drew Parker.
"We're so excited to be bringing live country music back to our wonderful WKML audience in Fayetteville," said WKML Programming Director Tee Gentry. "After a year away, we know our listener family is anxious to see some of their favorite artists on stage at the same time, telling stories and singing great music."
One thing that makes Stars & Guitars different than most other concerts is that all the artists are on the stage at one time.
Outside of the music and the unique performances, each artist will tell a story about their music, who they are, and create an entertaining experience. There are no opening acts and there are no headliners.
"Our listeners have heard all of these artists all over our radio station," Gentry said. "It's going to be such a treat to have legendary artists mixing with great newcomers."
The show will be performed at the Crown Coliseum this year, just like the 2019 show. Previous to 2019, the Stars & Guitars performance was at the Crown Theater.
"Our fans really responded well to our big move into the Crown Coliseum in 2019, and we're thrilled to be able to get back out there," Gentry said. "There really is no experience like a Stars & Guitars event, with some of the bests artists in country music joining together on one big stage."
Tickets are $25 regardless of where the seat is located, however the show has sold out. The only chance to get tickets is for people to stop at the John Hiester Chrysler Dodge Jeep in Lillington on Nov. 13 from 11 a.m. to 1 p.m.
Twenty pairs of tickets will be available, including front-row tickets. VIP tickets will also be given away at this event. These tickets are being given away by WKML.
Winners do not need to be present to win the tickets. The list of winners will be published at www.WKML.com. Winners can then pick up the tickets at the radio station.
The Crown Complex is a clear bag-only facility and still requires face masks for those who do attend the event.
Doors open at 6:30 p.m. and the concert begins at 7:30 p.m. They advise everyone to park in the lot adjacent to East Mountain Drive and enter there. But all of the Crown parking will also be available.