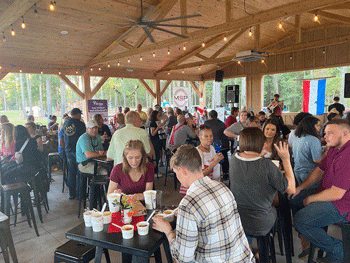 The Home Builders Association of Fayetteville (HBAF) comprises builders, developers, suppliers, bankers, mortgage brokers and marketing professionals.
Founded in 1963, the association has provided members with a variety of resources on the housing industry and opportunities to grow and improve their businesses. Of 62 local associations in North Carolina, the HBAF is in the top ten largest associations.
The HBAF's third annual Chili Challenge is a friendly competition where members can enter their chili recipes. The winners will have the opportunity to claim the title of first or second place. There is also an Award for Taster's Choice. In addition to the chili cook-off and chili tasting, there will be live music, Clyde's Cabin Band, and beer provided by the venue Dirtbag Ales Brewery and Taproom. The event is open to the public. Tickets can be purchased at fayhbanc.memberzone.com/eventregistration/register/964 or on the day of the event at the door.
Tickets are $20 and allow attendees to taste all the competing chilis and include two drinks. Competing teams pay $100 to participate in the Chili Challenge.
"The money raised is used to further the mission of the HBAF ... to serve, advocate and promote the local building and development industries while fostering unity between members, government and the community," said Natalie W. Fryer, executive officer, HBAF.
Previous competitor and winner Tracy Mozingo hopes to win a voter's choice award this year.
"Truth be told, my husband Jeff volunteered me to enter the contest because he likes my chili and thought I would enjoy the camaraderie and marketing opportunity. I then enlisted the help of fellow chili-maker and friend Kim Evers," Mozingo said. "We have won the judges' choice each year, but we'd love to take voter's choice as well!"
"When we won, I felt shock and disbelief and utter excitement, Mozingo said. "I think I may have screamed and jumped with excitement."
Evers explains that the competition was steep.
"We were so excited because there were so many other great chilis out there," said Evers.
"We have entered every year since it started, which was in 2020. And we won the judges' vote each year," explained Mozingo. "Kim and I each make our own chili, and we marry the two at the event."
The event is full of fun and camaraderie, according to Evers.
"It is so much fun hanging out with all the local builders and their teams," Evers said. "It is a fun crowd."
Chili challenge tip? Evers said, "Ground white pepper and lots of love." Mozingo's advice? "Get ready for spicy fun. Bring your appetite."
The Chili Challenge will take place on Feb. 25 from 5:30 to 9 p.m. at 5435 Corporation Drive.