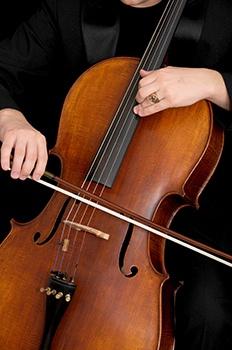 Is this just fantasy, or is the Fayetteville Symphony playing Queen? One of the most anticipated concerts of the year is back with the FSO's "Bohemian Rhapsody" concert.
Anna Meyer, community engagement manager for the FSO, told Up & Coming Weekly that this performance's theme has been in the works for a while. She explained that this program was initially scheduled for the 2019-2020 season, but COVID-19 canceled it.
"We've really been waiting for this," Meyer said. "We like to have concerts that incorporate popular music that people recognize and can kind of sing-along. I think we like to do that just so people feel a little bit more involved in a concert they know."
The FSO will be performing four classical pieces that break the stereotype of symphony music. These pieces were created with the idea that you dance and enjoy yourself. And as the title of the concert suggests, the performance of FSO's symphonic rendition of "Bohemian Rhapsody" by Queen will be included.
The principal cellist during this event is local cellist Nathan Leyland. He will help conclude the evening with a performance of Antonin Dvorak's "Cello Concerto." This concerto is often noted as one of Dvorak's greatest concertos of all time. The concerto highlights a mix of folk music with the classical range of the cello.
For Leyland, this concerto has a special place in his heart. The first symphony concert he attended was the Lynchburg Symphony Orchestra in Virginia. During that concert, Steven Honigberg, a cellist and member of the National Symphony Orchestra, performed the "Cello Concerto."
"I was in fifth grade and had just started playing the cello. I was selected to perform in a masterclass with Mr. Honigberg, and the next day we were invited to watch him play with the orchestra," Leyland said. "It's pretty wild to think that 36 years later, I am getting ready to perform this great work with my friends and colleagues in FSO."
The symphony will be returning to the Seabrook Auditorium at Fayetteville State University for the first time since the pandemic started. The bigger auditorium means that more people will be able to attend this concert. The previous concerts for the 2022 season have been performed for around 100 people. Because of the location, this concert will be able to entertain an audience of more than 700.
Meyer says that they have sold more tickets for this performance as well.
The concert will take place at 7:30 p.m. on March 12. Tickets can be purchased online at https://ci.ovationtix.com/36404/production/1075555 or over the phone at 910-433-3690. The ticket price ranges from $5 to $25. The total concert run time will be an hour and 20 minutes.