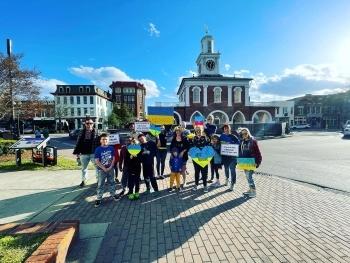 This past week, March 24, marked one month since renewed aggression in Ukraine in the ongoing Russo-Ukraine War. Beginning in 2014 and resulting in the Russian annexation of Crimea and unrest in the Donbas region, the war has culminated in a full-scale invasion of Ukraine by Russian forces. While the war may seem very far away for many in Cumberland County, it is hitting home for some.
Dmitry and Alena, whose last names are being withheld at their request because Dmitry is in the U.S. Army Special Forces, are from and grew up near Kyiv. The couple immigrated to the U.S. from Ukraine. Dmitry joined the U.S. Army in 2009 and graduated from the Special Forces Qualification Course in 2014. He currently serves on active duty and is stationed locally at Fort Bragg.
While Dimitry and Alena now live in the U.S., their families are still in Ukraine. This includes brothers and sisters and their children, aunts, uncles and cousins. Dmitry's nephew and brother-in-law are currently fighting in Kyiv along with thousands more throughout Ukraine who have vowed to defend their homeland.
Shortly after the invasion, Dmitry put out a call through his personal network and via social media for support and medical supplies to be donated and sent to Ukraine. Just one day after the invasion began, Dmitry posted.
"If you [are] not too far away from me: Fayetteville NC, we've got some request[s] from Ukraine," Dmitry said in his post.
He was requesting medical supplies to send home. And the community answered.
"Russian and Belorussian terrorists are still attacking my home country, and I am still looking for equipment to send to Ukraine. We successfully shipped off today 22 40-gallon boxes of amazing medical equipment worth $98,000," Dmitry said in early March.
In support of his call for help, the Special Forces Foundation, a nonprofit with the mission of supporting Green Berets and their families, helped Dmitry and Alena establish a fund supporting their cause.
"The Green Beret Humanitarian Fund (GBHF) was created to support humanitarian efforts in which Green Berets coordinate, work with or otherwise support outside of their line of duty. The fund was created in the first days of the 2022 Russian invasion of Ukraine when a fellow Green Beret and his wife reached out for assistance in helping their former countrymen," the Special Forces Foundation said in a statement. "Dmitry and
Alena have actively been gaining support within their community in the form of monetary and material donations and physical help in preparing those donations for delivery to Ukrainians in dire need. The GBHF has been set up so that they, along with other advocates, can actively raise funds to aid in the expenses accrued when shipping donated items to Ukraine."
Since the creation of the GBHF, a Facebook page, UkrainianEfforts has been created, demonstrations in Fayetteville have been organized, and Dirtbag Ales Brewery and Taproom and Dirty Whiskey Craft Cocktail Bar have scheduled an event in support of Dmitry and Alena. The brewery is accepting donations by collecting Meals Ready to Eat, dry freeze foods, blankets, water filtration systems, socks and undergarments and medical supplies.
The efforts to support the GBHF will culminate in an event from 11 a.m. to 2 p.m. on April 3.
For information on how to help the GBHF visit the Facebook UkrainianEfforts, and to make a donation, you can text GBHF to 41444 and follow the link provided.