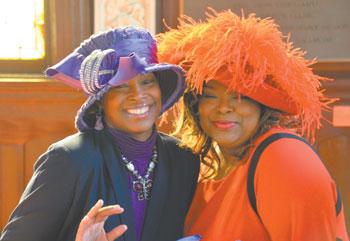 Cape Fear Regional Theatre will wrap up the season with "Crowns," a gospel musical, May17–June 3. The show, written by Regina Taylor, is adapted from the book "Crowns: Portraits of Black Women in Church Hats" by Michael Cunningham and Craig Marberry.
The book is a collection of photographs and oral histories of African-American women in their Sunday best, which includes elaborate head gear, a cherished custom prevalent in the South among many religious denominations.
The musical weaves many of those stories into characters who offer support and encouragement to each other, said CFRT artistic director Mary Kate Burke. "It's really a collection of stories about acommunity," she explained.
Yolanda, an African-American, struggles with grief after the death of her brother. She goes down South to live with Mother Shaw, her grandmother. Mother Shaw introduces Yolanda to her circle of "hat queens."
The "hat queens" embrace the younger woman and take her under their wings, said Cassandra Williams, who plays Mother Shaw. Each hat they wear has a story of a wedding, a funeral, a baptism. The women share stories of how they've managed life's struggles. As a community, they help Yolanda deal with the loss of her brother and find her own identity.
"It shows African-American culture, but any group of women can identify with the story," Williams said. "The whole play is cathartic."
"And it's funny," said Burke, adding that these characters deliver a good bit of "hattitude."
"There is a different hat for every occasion," Williams said, "and you are introduced to different characters vis-à-vis the different hats they wear."
Williams explained that "hat queens" are those women who can wear any kind of hat. "A regality comes with it and you feel like a queen – you know that you look good."
With that regality and confidence comes a broader message, said La'Tonya Wiley, who plays Mabel in the show.
"We call them her crowns," Wiley said. "It celebrates the power of a woman; it celebrates womanhood and femininity." She added that the show allows men to see the complexity of women – just as there are layers and many parts to a hat, there are layers to women.
The show will appeal to men as well as women, said Burke. "It is a celebration of womanhood, but not at the cost of men," she said. "It has such a generous spirit."
"Crowns" is directed by Donna Bradby ("The Wiz"). The songs are traditional gospel, with some blues and jazz. Featured songs include "Ain't That Good News," "Marching to Zion," "Just a Closer Walk with Thee," and "Wade in the Water."
Joining Williams and Wiley in the cast are Ariel Blake as Yolanda, Sha'air Hawkins, Janeta Jackson, Chasity McIntosh and Walter Johnson.
Tickets for "Crowns" range from $17-$32, with discounts and group sales available. Special events for the musical's run include Preview Nights May 17 and 18; Opening Night Celebration with the cast and creative team May 19; and Military Appreciation Night May 23.
There will be a Tea and Chat with milliner Barbara Wood on May 20 at 5 p.m. with a hands-on demonstration of making a pillbox hat. The catered event is free but seating is limited, so register by contacting the box office at 910-323-4233 or janisl@cfrt.org. This event is sponsored by the Fayetteville Alumnae Chapter of Delta Sigma Theta Sorority.
For more information about the show or special events, contact the box office at 910-323-4233 or visit www.cfrt.org.