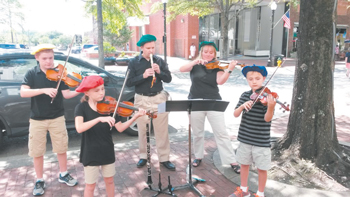 "The happiness of America is intimately connected with the happiness of all mankind; she is destined to become the safe and venerable asylum of virtue, of honesty, of tolerance, and quality and of peaceful liberty."
— Fayetteville's namesake, Marquis de Lafayette
In the late 1770s, Marie-Joseph Paul Yves Roch Gilbert du Motier, the marquis de Lafayette —called Gilbert by his friends — was about as All-American as one could get. Well, except that he was French, and America's existence was still up for debate as it was still fighting for its freedom from British rule. Lafayette is Fayetteville's namesake. This the only town named for him that he ever visited. He defied French royalty and fought side by side with Gen. George Washington, who later became America's first president. Lafayette spent most of his personal fortune on the American cause and used his brilliant leadership skills to help lead American patriots to victory.

Each year, The Lafayette Society tips its hat to this French nobleman, who loved freedom and championed human dignity, with a birthday celebration — complete with cake and ice cream. The 2020 festivities are set for Sept. 3, 10, 11, 12 and will be virtual except for the downtown sidewalk sale — along with cake and ice cream — on Saturday, Sept. 12. To keep everything COVID-19 safe, the cake will be prepackaged Little Debbie cakes.

Artifacts and Arias has been a mainstay event at the Lafayette birthday celebration for about 14 years. This year, the Arts Council of Fayetteville/Cumberland County joins the party as the French concert kicks off the festivities Sept. 3 with Hay Street Live, the Art's Council's bi-monthly virtual concert and entertainment venue. The shows a streamed via Facebook Live at https://www.facebook.com/TheArtsCouncilFAY/.

Dr. Gail Morfesis leads the entertainment portion of Hay Street Live with what she calls an informance. It is in a "Name that Tune" format. "In the past, we would play something like the song from 'The Alfred Hitchcock Hour,' and people didn't realize it was a French tune," said Morfesis. "Last year, we used an Elvis Presley song based on a French song, and I sang for them the original French version."

During this segment, viewers will be encouraged to write in and guess what the tune is.

Local artists are always prominent in the event, too. "This year I have a young person who I hope will play a violin piece," Morfesis said. "He was in our concert five or six years ago and people loved him. We are also going to have an excerpt by the Thiriot family. … They are doing some French tunes and possibly a jazz number."

Morfesis will also perform a French duet with Russian soprano Alina Cherkasova. Bella Venti, a woodwind quintet, will perform a piece with a piano.

"All pieces will be under five minutes long," Morfesis said. "We want people to not be bored."

For the cocktail portion, Morfesis invited Ann Highsmith to be the host. "Our drink is the Highsmith mimosa," Morfesis said. "Ann and the Arts Council's Metoya Scott will do the drink for the evening. We will also have a Lafayette impersonator who will taste the cocktail and contribute do some of the spots. This is a variety show, so there is something new every two or three minutes."

The French connection is an integral part of the performance as well. It is usually a piece written by an American who was somehow connected to France.
Join Director Emerita of Special Collections & College Archives at Lafayette College Diane Shaw as she speaks about Lafayette's passion for human rights and the betterment of mankind. While many know of his contributions to the American Revolution, not everyone knows the depth of his passion for humankind. Visit https://www.youtube.com/user/faytechcc to view the speech Sept. 10, at 2 p.m., or any time afterward at https://www.lafayettesociety.org/.

"My desire is for people to know Lafayette in a broader sense," said Shaw. "His great return visit in 1824/25, when he visited every state in the union … was remarkable and underscored his support of African Americans and their issues. I will be talking about how Lafayette first become an abolitionist and his experiment in South America and what happed on the tour. And about all his best friends who had slaves — like Thomas Jefferson and James Madison. And the gestures he made during that tour to African Americans. American Blacks knew Lafayette was their friend.

"I am going to go further than talking about anti-slavery and talk about other human rights. Lafayette helped gain rights for French Protestants and voting right for French Jews. … He was a friend to Native Americans, and he did a lot for them. Lafayette admired women and their intellect. He supported women reformers. He was against the death penalty and solitary confinement as well. I would like people to know him as more than the French hero of the American Revolution."

A lot has changed since Lafayette worked so hard to make the world a better place. There is still room to keep improving, though. "I think Lafayette would have a lot to say about the state of America today and what is needed," said Shaw. "In 1777, he had a vision for American that we would do well to adhere to today.

Another favorite of the birthday celebration is the Lafayette tour. Explore five significant stops in and around downtown Fayetteville via video and learn more about Lafayette as well as Fayetteville's history.


The first stop is the Person Street bridge. It was the first bridge across the Cape Fear River. Learn some of the fun facts about its history. For example, it was a toll bridge — it was 2.5 cents to bring a sheep or a hog across. If you walked across, it was a nickel, but if you were on a horse, it was a dime. The fee for a carriage was 75 cents. Lafayette crossed in a carriage but didn't pay a cent to cross. Catch the whole story here.

Next is the Liberty Point building. "We will cover the Liberty Point Resolves," said Mike Samperton, one of the guides. "We will focus on the monument and a marker there that highlights the three names of Fayetteville." Here, the tour covers Lafayette's relation to the building as well as how the fair city nearly become known by a different moniker.
The next stop is Cross Creek Cemetery. "I will highlight four American Revolution vets buried there," Samperton said. "We will also talk a little about Cool Spring Tavern. It was built in 1788, and all the VIPS stayed there the next year when we ratified the Constitution."

Next up is city hall, which has the Lafayette bust. "We will highlight our relationship with our sister city — St. Avold France," said Samperton. He also noted that just as Fort Bragg is being scrutinized for its namesake, Cumberland County had a similar issue in its past. It was actually called Fayette County for six months. Learn more about it on the tour.
The last stop is the Lafayette statue.
Visit https://www.lafayettesociety.org/ for more information about the events or about The Lafayette Society.
Pictures: (Top to bottom) The Thiriot family will perform on Sept. 3 at the French concert during Hay Street Live. Diane Shaw (in red) speaking to Fayetteville State University students. Clarendon Bridge is now known as Person Street Bridge.