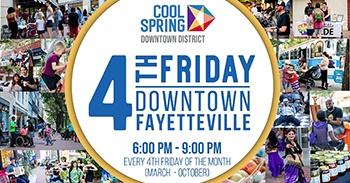 Cool Spring Downtown is throwing a party every fourth Friday of the month, and everyone in Fayetteville is invited.
"Fourth Friday is when we line the streets of downtown Fayetteville with food carts, artisans, makers and vendors," said Lauren Falls, director of Marketing and Events for Cool Spring Downtown District. "It's a time when we invite families to come downtown and shop locally from 6 to 9 p.m."Beginning in March of each year, Fourth Friday concludes with the downtown Zombie Walk in October, giving the people of Fayetteville around eight Fridays a year to see the city really let her hair down.
Fourth Friday has been a popular addition to the downtown scene for over a decade. The block-party-type event is an opportunity for citizens to come together in love and pride for their city.
Like so many other social events worldwide, Fourth Friday moved to a virtual platform during the height of the pandemic. Falls is excited for people to have the full Fourth Friday experience as the city opens back up to larger events.
"Fourth Friday serves the families of this area because it's such an engaging experience for people of all ages. There are so many things to do," Falls told Up & Coming Weekly. "You can come with your kids, grab something to eat from the food trucks, see local artists, listen to local music and visit some downtown shops."
Visitors to Fourth Friday can look forward to extended business hours, live performances and art of all types on display as they weave their way through a bustling marketplace with a little bit of everything to offer.
Like many programs and events throughout the city, Fourth Friday is part of a movement committed to bringing culture, arts and entertainment to the area while supporting local artisans and businesses.
"I love so many things about Fourth Friday," Falls said. "I love seeing kids get excited when they see local art and watching the faces of people enjoying themselves as they go into different shops and experience something new."
"Come expecting something unique," she said, offering advice to those visiting for the first time. "Be open to trying new things. Come out, enjoy new food and shopping experiences, and try out a new business or local merchants."
Parking decks are located on the 400 block of Hay Street and the corner of Franklin and Donaldson. Both are open and available for public use during Fourth Friday.
"I would love people to leave Fourth Friday excited about trying a new brewery or restaurant and loving where they live," Falls said. "I would also be excited for them to come back to see the plethora of events Cool Spring Downtown District organizes throughout the year. I would love each and every person to get plugged into the downtown scene here."
Fourth Friday is a free event and open to the public. The next Fourth Friday event will be Friday, May 27, starting at 6 p.m.
For more information, visit https://visitdowntownfayetteville.com/events/7046/.