The 6th Annual African World Peace Festival will bring culture, fun, education and awareness to downtown Fayetteville from Friday, Sept. 9 to Sunday, Sept. 11. Organized by the Culture and Heritage Alliance and partly sponsored by the Arts Council of Fayetteville, the festival will be a family-friendly fundraiser celebrating art, music and diversity.
After two years of COVID restrictions, the three-day event is back and better than ever, with an exciting lineup of entertainment and activities for people of all ages and backgrounds. In alignment with CHA's mission to "promote the works of emerging artists while fostering cultural diversity and education for the promotion of peace," the festival will display a vibrant mix of cultures coming together in love and appreciation of one another.
The first festival launched in 2014 based on a need Dr. Isabella Effon, co-founder and president of CHA, saw in the community to have more representation for a population of African immigrants making their way into Fort Bragg.
"The idea of the festival came along when I moved here in 2001," she explained. "I realized our population was growing as African immigrants, we were starting families, and we wanted our culture to be part of this community."
From there, the festival has grown over the past eight years to include an impressive array of activities over a well-organized schedule. Whether checking out the festival for just one day or all three, there's no shortage of things to see and do.
Beginning at 5 p.m. on Friday, the AWPF will kick off with a prayer. Guests will spend the rest of the weekend dancing, drumming and singing along with an array of musical acts and dance groups. Friday and Saturday will welcome the African Highlife Band, Kongo Jazz, Aya Drum & Dance, and African Children Beats, to name a few. A gospel concert will begin on Sunday at 10 a.m., followed by a non-denominational service. The festival will end Sunday evening in the echoes of a drum beat.
In addition to an exciting musical lineup, the festival, organized into zones, will offer ample opportunity for its guests to explore different aspects of African culture.
The Arts & Crafts Zone will allow guests to learn a new trade, such as pottery, painting, papercraft, and much more. Various workshops within the zone will demonstrate craft-making from different regions of Africa, and artists from around the world will also use this area to display and sell their work.
Although music and activities are integral to any celebration, a festival is only as good as its food. With that in mind, AWPF's Food & Beverage Zone will be packed with a tasty variety of cuisines from around the world, drinks and desserts for purchase.
Lastly, The Kid Zone is a place where the festival's youngest visitors are free to learn, play and discover. Face painting, arts & crafts, games, and tons of activities will ensure a great time for kids and parents alike. Kids can also look forward to exercising their problem-solving skills with puzzle boxes supplied by Xscape Factor, a climbing wall provided by The Climbing Place, and a real-life excavation dig complete with remote-controlled digging equipment.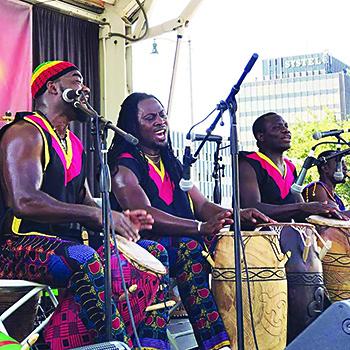 Of all the activities and offerings scheduled, Dr. Effon is most excited to share Africa's rich cultural diversity through its music and food with the people attending the festival.
"I'm most excited to share the music, the concerts and the food," she laughed. "If you look at all the footprints Africa has left worldwide, this festival is a celebration of those influences. When you look at it, we really all eat the same things. So much of our food and music comes from Africa, and that's why we celebrate this as an 'African World' festival."
Fun, games, art, music and food are important aspects of the festival, but there's more to AWPF than simply serving the spirit; the festival is dedicated to serving the body. Throughout Saturday and Sunday, guests can sign up for free health screenings beginning at 7 a.m.
Saturday is also race day. Those who register can participate in the festival's 5k/10k walk/run sponsored by Foxhole Consulting. Each participant who completes the race will receive a T-shirt and medal. A 1st, 2nd and 3rd place prize will be awarded to males and females with the best time.
Walkers and runners under 16 will pay $30 for early registration, while those over 16 will pay $35. All participants must sign in between 6 and 6:30 a.m. to receive their participation T-shirt and race number; the race will begin at 8 a.m.
With over 8,500 guests in attendance pre-COVID, organizers expect an even larger turnout this year. This year's festival is later in the summer than any previously scheduled, which means it's the first AWPF to take place in concurrence with college classes. A later start date also ensures that the temperature readout is a bit kinder.
For Effon, this is an important year for the festival. After a two-year hiatus, she is excited to come back together to heal and share.
"Humanity doesn't stop, life doesn't stop, but things have changed," she said of the COVID-19 pandemic. "It's given us a template to follow, and we now know that things can change anytime. We're adjusting to our new normal, but we shouldn't be afraid to come out and celebrate one another. It's important for us to come back and exchange that peace and love."
In addition to the African World Peace Festival, the CHA organizes events throughout the year that speak to the same intention of social connectedness. Dance lessons, film festivals, demonstrations and workshops are all planned to bring people together to learn from one another.
Africa is a continent containing over 54 countries, 3,000 tribes, and over 2,000 different languages and dialects. It is a place with a fascinating history, diverse people and a wealth of cultural information to share. Events like the AWPF create an awareness of the world that can be transformative.
"Every time we do this," Effon explained, "I want people to understand that we are all one. We all have different cultures, beliefs and languages, but one thing that brings us together is food and music. No matter the language we speak or what part of the world we're in — we don't have to understand each other to move together."
The AWPF is a free and public event. However, food, beverages, vendor items and race participation require payment.
To register for the 5k/10k visit https://africanworldpeacefestival.org/5k-10k-run/.
To volunteer or sponsor, visit https://africanworldpeacefestival.org/for-volunteers/ and https://africanworldpeacefestival.org/be-a-sponsor/.