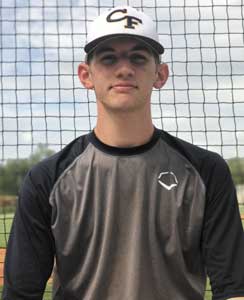 The lure of playing professional baseball this summer was enticing to Cape Fear pitching standout Gavin Williams.
But after giving it some thought, Williams decided the best thing for his future was to honor his previous commitment to East Carolina University and enroll in summer school in Greenville.
Williams reported for classes last Wednesday. He said he decided that at only 17 years old he wasn't ready to move out completely on his own and join the Tampa Bay Rays rookie league team in Naples, Florida.
Tampa Bay drafted Williams in the 30th round of this year's Major League Baseball draft.
"I just felt I wasn't ready at the time,'' Williams said. "Going off at 17 would be kind of hard to do by myself.''
Williams turns 18 in late July and he's looking forward to spending time working out with his new teammates at East Carolina.
He already knows quite a few of the players he'll be joining, having played with or against many of them during summer travel ball.
One who won't be there is Whiteville standout MacKenzie Gore. Gore, ranked by many as the best left-handed high school pitcher in this year's draft, was the third player taken this year, going to the San Diego Padres.
Williams and Gore have been friends for some time, and at this writing Williams said he expected Gore to sign with San Diego and report to a team in Arizona. There have been published reports that Gore could be getting a deal from the Padres in the range of $7 million.
Even if Gore had elected to stay with East Carolina, Williams is confident he would have gotten his share of playing time with the Pirates this fall. Now that he's enrolled, he's committing to the Pirates for at least three seasons before Major League Baseball can try and draft him again.
"I'm just going in there to throw strikes when they need to put me in,'' Williams said.
He'll spend the summer working with his teammates and throwing a little, and then get his first taste of college competition this fall when East Carolina takes part in fall baseball.
Despite starting the 2017 season with a knee injury that required surgery, Williams finished his strongest year ever for Cape Fear.
He was 6-0 with a 0.35 earned run average. He pitched 39.2 innings and had 65 strikeouts.
Playing shortstop when he didn't pitch, Williams batted .419, tied with teammate Jackson Parker for best in Cumberland County Schools. Williams had four doubles, two triples and drove in eight runs.
Photo Caption: Gavin Williams