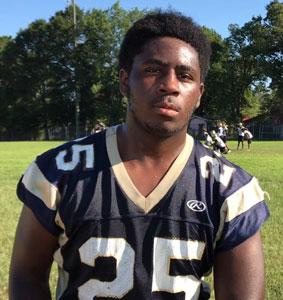 2016 record: 3-8 | Coach: Deron Donald

Top returners: Xeaiver Bullock, 6-0, 175, Sr., QB; Rahsaan Young, 5-8, 165, Sr., RB/WR; Kyle Fennel, 6-1, 245, Sr., OL/DL; Khari Carrington, 6-0, 250, Sr., OL/DL; Ethan Bolger, 6-1, 270, Sr., OL; Ethan Bolger, 6-1, 270, Sr., OL; Jerry Davis, 5-11, 190, Sr., LB; Clifford Adamson, 5-9, 170, Sr., DB; Reginald Loyd, 5-8, 175, Sr., DB; Byron McNeil, 5-11, 185, Sr., DL/OLB; Tre'Marquis Patterson, 5-10, 175, Sr., OLB.
Top newcomers: Andrew Whitaker, 6-1, 175, Jr., OLB; Vashawn Williams, 6-0, 180, Jr., OLB; Eric Burke, 6-0, 170, Jr., DB.
Team strengths: We have a lot of returners from last year's team, which should provide experience. There's only one thing that beats experience and that's maturing with experience.
Team concerns: Lack of depth.
Coach's comment: We finished the season 3-8, and many of the games were close, but we could not finish. Our emphasis as a program has been to get stronger and learn how to finish.
PHOTO: Kyle Fennel