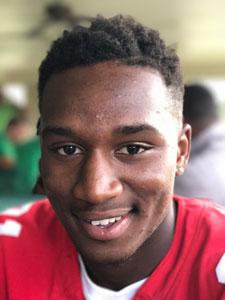 2016 record: 9-3 | Coach: Duran McLaurin

Top returners: Reggie Bryant, 6-0, 170, Sr., WR; Kyler Davis, 6-1, 190, Jr., QB; Thomas Washington, 6-2, 265, Jr., DL; Jamarques Carr, 6-3, 190, Sr., DL; Greg Walker, 6-2, 280, Sr., OL; Aristolis Bennett, 6-2, 185, Sr., LB; Reuben Willis, 6-3, 260, Sr., OL; Benjamin Willis, 6-2, 250, Jr., OL; Bryson Hamilton, 6-2, 190, Sr., S; Jaylin Razor, 5-10, 250, Sr., FB.
Top newcomers: Cameron Townsend, 5-7, 150, Jr, WR; Kyle House, 6-2, 180, Jr., WR; Russel Hewett, -10, 250, So., DL; Devante Wedlock, 5-8, 220, Jr., LB; Nasir Merritt, 5-8, 165, Sr., DB.
Team strengths: The team will be experienced on the offensive and defensive line, returning many of the more productive components from last season. The team will also be returning the top receiver from last year who has been with the starting quarterback for the past three seasons. The team will also be returning some experience at the linebacker position from players who played a lot of meaningful snaps last season.
Team concerns: Inexperience in the secondary. Replacing two linebackers. Filling the quarterback spot as veteran Julian Hill recovers from a knee injury.
Coach's comment: The key to our success will be relying on talent in our returning offensive players and the quick maturity of our secondary (players).
PHOTO: Reggie Bryant