There will be a changing of the guard on the tennis courts at Terry Sanford this season. At Pine Forest, last season's Mid-South 4-A Conference champion, coach Mandy McMilan and players hope it will be business as usual.
McMilan bid farewell to the last of a strong group of players that have starred for Terry Sanford in recent years and will now be turning the squad's future over to a new generation.
"This is kind of a growth year,'' she said. "We've only got two seniors, one of them being my No. 1 player.''
But don't let lack of experience make you think this won't be another strong Bulldog team. "We've got a lot of talent,'' McMilan said. "We're very sophomore- heavy. It's looking real good for next year and the year after.''
Melissa Lu, one of the two seniors on the squad, moves up to No. 1 singles. McMilan called Lu an extremely disciplined player who doesn't show a lot of emotion on the court. "She's even keeled,'' McMilan said. "She's just a solid player. As long as she stays focused and is on her game, she'll be a contender at states.''
Meanwhile at Pine Forest, the Trojans made their first trip to the state dual team playoffs for the first time in years. Coach Jarrod Britt lost three of his top six but returns a pair of sophomores at first and second court to anchor the team.
"We've got a little bit of filling in to do,'' he said. "We're pretty happy with what we've got coming back.''
Leading the returners are No. 1 singles player Kelcie Farmer and No. 2 Shania Lane.
Farmer was the Mid-South 4-A Conference player of the year last season.
"She wins more by attrition than anything else,'' Britt said. "She's very well-conditioned and forces a lot of errors. Very consistent.''
Playing No. 2 singles again this year is Shania Lane. Tall and powerful, Britt said Lane has a strong serve, backhand and forehand.
"She moves well and just really overwhelms opponents whenever she plays them,'' he said. The only other returner for the Trojans is Emily Harris, who was No. 6 last season.
"She's a senior and one of the best leaders on our team,'' Britt said. "She doesn't say much, but she gets it done on the court.''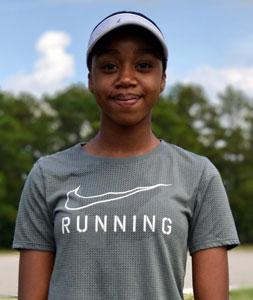 This season, the Mid-South 4-A is no more and Pine Forest will be in a new combination 4-A/3-A league, the Patriot Conference, which includes Terry Sanford. When the playoffs arrive, they won't play each other, as each will still qualify in their respective size classification.
Britt looks forward to playing the Bulldogs on a regular basis. "Obviously Terry Sanford is a perennial tennis powerhouse,'' he said. "We scrimmaged them last year before the start of the season and it kind of showed us where we were.
"I love playing tough teams during the season. It prepares you for the postseason, kind of gets you ready for that survive and advance mentality you've got to have in the playoffs.''
PHOTOS: (Top to Bottom) Melissa Lu, Kelcie Farmer, & Shania Lane