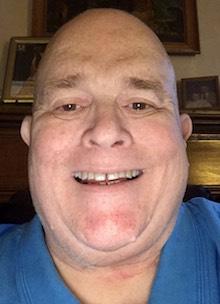 I spent a good portion of this past weekend wallowing in self-pity as I struggled to deal with a left hand and wrist wrapped in a cast as a result of surgery. The chore of simple tasks like pulling on pants or screwing the lid off a jar one-handed proved aggravating. And then I saw the closing minutes of the Southern Cal football game
on Saturday
. And I cried. If you're one of the few who missed it, you missed the incredible story of Jake Olson.
Olson has been a Southern Cal football fan since he was a kid, and some years ago he was adopted by the team and hung out at practice. This was before a brain tumor forced the removal of both of his eyes, costing him his sight.
But last Saturday, Olson was on the football field for the Trojans, wearing a uniform and lining up as the deep snapper on an extra point. He flipped the ball back to the holder, without the aid of sight, and the extra point was made. To celebrate, he took a turn at leading the Trojan band while still wearing his uniform.
All of a sudden, my little arm issue seemed awfully small, and so did I for feeling put out by it. During a post-game interview, Olson was asked about how he dealt with the bad hand life had dealt him. This was his answer. "If you can't see how God works thing out, then I think you're the blind one." Amen Jake. We could all do with that kind of faith.
The record: 24-5
I had another strong week, going 9-1, but totally blowing the Jack Britt-Gray's Creek game.
The season total is 24-5, 82.8 percent.
Cape Fear at Terry Sanford
–
Christian Jayne and Andrew Jayne have entered the record books at Terry Sanford High School as the most prolific quarterback-receiver combination in school history. Meanwhile, injuries have decimated the Cape Fear defense and left the Colts vulnerable to air assault.
It doesn't take a genius to call this one.
Terry Sanford 29, Cape Fear 12.
South View at Douglas Byrd
–
Two teams headed in opposite directions. South View shouldn't have much trouble getting its first Patriot Conference win.
South View 31, Douglas Byrd 6.
E.E. Smith at Overhills
–
With Xeavier Bullock's status in doubt for the Golden Bulls, I have to lean toward Overhills in this one.
Overhills 22, E.E. Smith 6.
Pine Forest at Gray's Creek

–
Frustration is going to end for someone
tonight
. I think it will be the Trojans.
Pine Forest 21, Gray's Creek 12.
Southern Lee at Jack Britt
–
Britt broke into the win column in a big way last week, but will be facing tougher opposition this time.
Southern Lee 27, Jack Britt 20.
Southern Durham at Seventy-First
–
The Falcons step outside of their conference to get a win.
Seventy-First 28, Southern Durham 18.
Other games
North Wake 22, Fayetteville Christian 14
Trinity Christian 31, Sandhills Titans 8
Village Christian 18, Harrells Christian 16