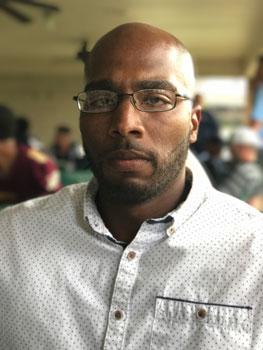 Two games into his first season as head football coach at Jack Britt High School, Brian Randolph was searching for answers.
The Buccaneers started 0-2 and were sputtering offensively, with one touchdown in two games. They were moving the ball but couldn't seem to find the end zone.
So Randolph tried a trick in practice after the loss to Terry Sanford.
"We put a big emphasis on finishing,'' Randolph said. "We started everything from the 20-yard-line going in. Every time you touched the ball you had to score.''
It apparently worked. In the next game against Gray's Creek, the Buccaneers hit a number of big plays early and rolled to their biggest offensive output of the season, a 41-12 win.
"That motivated us to finish drives,'' Randolph said.
A week later against Southern Lee, Britt used its new confidence to rally from a 10-point deficit against the Cavaliers and pull away for a 38-24 win.
"We came into the third quarter and kicked off to the end zone, got a touchback and a safety in two plays, then on the first offensive play we scored,'' Randolph said.
"Those guys showed me and the other coaches they want to win and are not accepting defeat, which is always a great thing,'' he said.
Britt had an open date last week, and it couldn't have come at a better time. It gave the team a chance to savor its two-game win streak and begin to focus on the start of conference play in the tough Sandhills Athletic Conference.
Britt's respite will be short-lived as the Buccaneers return to play Friday at home against their former coach, Richard Bailey and his Scotland team that was the preseason choice to win the conference.
Two players Randolph will be counting on heavily against the Scots are center Marcus Sanders-Johnson and linebacker Erick Martinez.
Sanders-Johnson may seem undersized for the position at 5-feet-9 and 215 pounds. "He's one of the strongest and most aggressive players we have,'' Randolph said. "He has eight pancake blocks. He's an awesome player and leader on our team.''
"We've definitely picked it up in practice,'' Sanders-Johnson said. "We're working hard, grinding and stuff.''
He added it's been a boost around school when classmates tell the players they're doing a good job. "It keeps our confidence up as we get ready for Scotland,'' he said.
Randolph said Martinez has recorded 41 tackles and two sacks in four games. "He's really aggressive and a hard worker,'' Randolph said. Like Sanders-Johnson, Randolph called Martinez a great role model.
When the offense was having its problems in the first two games, Martinez said the defense didn't get down on them. "We had their back,'' he said. "We knew they were going to pick it up. We had to get them right.''
Martinez said the key to continuing playing the way the Buccaneers are now is simple. "We just have to stay focused,'' he said. "Focus on our jobs, keep doing what we've been doing and try to adjust to Scotland.''
Randolph added that winning by itself cures a lot of problems. "It's a whole lot better going into the conference 2-2 instead of 0-4,'' he said. "We have some momentum, if we can keep that going through the bye.''
PHOTO: Head Football Coach, Brian Randolph, from Jack Britt High School.