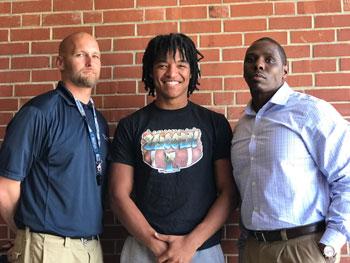 Part of the magic of Friday night high school football is you never know when history might be made.
There was already a ton of history at E.E. Smith's D.T. Carter Stadium when Xeavier Bullock and his Golden Bull teammates took the field against Gray's Creek recently. But Bullock wound up creating his own memorable night by throwing eight touchdown passes in the 53-34 win.
Bullock finished one scoring pass short of the state record of nine, which was set in 2012 by Raleigh Wakefield quarterback Connor Mitch.
Bullock shares second place on the all-time list in the North Carolina High School Athletic Association record book with five other quarterbacks.
Another former quarterback, Trey Edge of DK Sports, Inc., handled radio play-by-play of Bullock's game and came away impressed. Edge played quarterback at Terry Sanford and led the Bulldogs to the state 4-A finals in 1983.
"They attacked outside and short and got the ball to their guys in space,'' Edge said. "Once he got the defense loosened up, he started flinging it 30 and 40 yards down the field. It was the greatest performance I've ever seen.''
Bullock completed 22 of 31 passes with no interceptions for 287 yards. His scoring throws covered 35, 34, 23, 21, 19, 15, 5 and 3 yards.
Jurrod Hall caught three of the scoring passes, Bryan Davis and Rahsaan Young two apiece and Toshiro Spivey one.
E.E. Smith offensive coordinator Jeremy Priebe said passing figured to be important for Smith going into the game. "Gray's Creek has a real tough defensive line,'' he said. "I thought we could attack them through the air, get some quick passes in.''
Bullock said the Golden Bulls sometimes have a problem starting slow. He was anxious to avoid that. "I want to execute and do whatever we can to put it in the box,'' he said. "We executed and moved the ball down the field. I give all the props to my teammates.''
While Bullock said he's honored to be thought of in the same company as former Smith quarterback legends like Jimmy Raye and Charles Baggett, he added one big game isn't going to change him.
"Mostly I want to stay humble,'' he said. "I don't want to get too excited about having a winning record, because last year we didn't do so good. We want to stay focused and continue executing like we did.''
Asked if Bullock's big night might put pressure on him to repeat the performance, Smith head coach Deron Donald said there is no pressure on Smith, just expectations. "We have expectations and work hard every day to make sure we meet those expectations,'' he said. "Xeavier accomplished it, but the whole team — the offensive line, receivers, running backs — everybody did their part to make it a reality.
"We expect great things to happen because of the work they put in.''
PHOTO: Assistant coach Jeremy Priebe, Xeavier Bullock and head coach Deron Donald