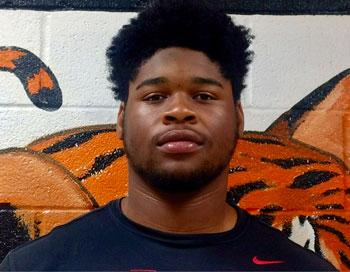 If anyone was an automatic to be picked for this year's Shrine Bowl of the Carolinas, you'd think Michael Edwards of South View was near the top of the list.
"You'd think that on the outside looking in,'' said Rodney Brewington, South View head coach. But Brewington apparently breathed a sigh of relief when Edwards' name was one of the first ones called during the annual Shrine Bowl announcement recently.
Brewington was with Edwards at the final invitation-only combine held for this year's North Carolina Shrine Bowl prospects.
"You saw the linemen down there and we were a little worried,'' Brewington said. "There were some linemen down there I felt were deserving. We were so fortunate Mike got an opportunity to play.''
Edwards, who has already committed to Wake Forest, stands 6-foot-7-inches and weighs 255 pounds.
He's served in a variety of roles for the Tigers this season, playing offensive guard and primarily left tackle, and also seeing action in the defensive line.
"I'm sure he's going to be in the offensive line (at the Shrine Bowl), but I told them he's having a great year on the defensive side of the ball for us,'' Brewington said.
Edwards' biggest asset is his mobility. "It's rare to see a kid that size who is that agile,'' Brewington said.
The Shrine Bowl is scheduled for Saturday, Dec. 16, at Wofford College's Gibbs Stadium in Spartanburg, South Carolina. Kickoff is at 2 p.m.
Brewington said he expects Edwards will have no trouble staying in top shape for the game.
"He's in weightlifting class, and we get a lot of strength and conditioning every day,'' Brewington said. "We run every day and lift every day. He's on a very good regimen.''
Edwards said he chose Wake Forest mainly for the opportunity to get a good education. He plans to major in engineering and technology.
He called playing in the Shrine Bowl "a big honor" and said he's got just one major goal in he game.
"Dominate the person in front of me,'' he said. "That's about it.''
PHOTO: Michael Edwards