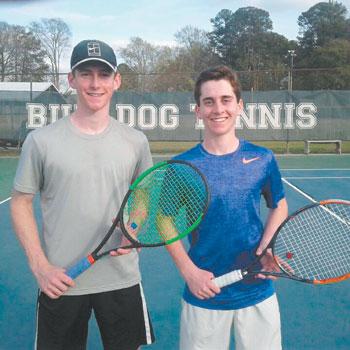 After consecutive state runner- up finishes in the North Carolina High School Athletic Association 3-A dual team tennis tournament, it finally looks like the title might be Terry Sanford's to win this season.
The Bulldogs began the current season ranked as the No. 1 team in the state according to the North Carolina High School Tennis Coaches Association poll.
The most recent rankings had them tied for the No. 1 spot with fellow Eastern rival Clayton.
The news that Terry Sanford is No. 1 was a bit of a surprise to Bulldog coach Gene Autry, but he knew coming into this season he was probably going to have the most experienced squad he's fielded since taking over the tennis program from veteran coach Gil Bowman.
"We had seven returnees from last year,'' Autry said. The only graduation loss was No. 6 singles players Richard King who also saw action in doubles.
Defending state singles champion Henry Lieberman heads the Bulldog lineup at No. 1 singles. The remaining top five, in order, are Nathan Lieberman, Alex Kasari, Andrew Zahran, Dave Sashidhar and Josh Blackman.
Although he's got an experienced lineup to work with, there's one thing Autry has no control over that concerns him about this season. "Our conference competition is nothing like it was in the old conference,'' he said. The Bulldogs left the Cape Fear Valley 3-A, where they faced a stiff test from Union Pines during the year, and found themselves in the revamped Patriot Athletic Conference.
The Bulldogs have steamrolled their league opponents this season, not even having to play doubles in most matches and never losing a set, not to mention not dropping many games along the way.
"It's hard to keep them motivated with the competition,'' Autry said. He's tried to reach out to some of the other stronger tennis programs around the state to schedule matches, but with the full slate of conference games Terry Sanford already has, it's been difficult.
The best competition Terry Sanford has faced has been in practice. "We do a lot more drill-type practice than we have in the past,'' Autry said. "We are looking forward to some tougher teams (in the state playoffs)."
One plus Autry said is some of his players do take part in weekend sanctioned tournaments, and that experience is helpful. "They get stiff competition there,'' he said. "Not all of them do it, so it's a worry for me to keep them motivated, focused and ready to go.''
The Lieberman brothers, Henry and Nathan, are aware of the competition concerns and are both doing all they can to make sure Terry Sanford has a solid shot at the state team title this year.
"I think it's really important we are getting recognized as No. 1 in the state,'' Henry said. "We have a history of being a pretty good tennis school. It's something that definitely can't be overlooked. We just have to keep practicing hard, match in and match out stay focused.''
Henry said he doesn't feel pressure as the returning 3-A singles champion. "If anything, I feel like it gives me confidence,'' he said. "We keep the mood on the team pretty light. I don't think it's too big of a deal.''
His younger brother Nathan said that after two years of heartbreak in the state dual team finals, the Bulldogs are ready for their time as champion.
"We think we can get there again and win it,'' Nathan said. "That's what's keeping us going. We just have to keep on having intensive practice, not mess around too much.''
Autry said that has worked well so far. "Then again, we haven't been tested,'' he said. "We have to wait and see when that time comes.''
Photos: Henry and Nathan Lieberman