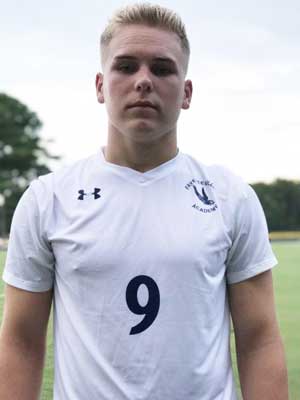 Fayetteville Academy entered the North Carolina Independent Schools Athletic Association's 2-A state soccer playoffs last weekend as defending state champion riding a 10-game winning streak this year.
The Eagles got the No. 1 seed in this year's 2-A tournament and earned a double bye into the quarterfinal round, which was scheduled for Saturday, Oct. 20. They were to face the winner of a second-round match between Trinity Academy and The O'Neal School.
Fayetteville Academy is seeking its 17th state boys soccer title and fifth in the last eight years.
If they're still alive when this article is published, they'll advance to this year's state finals on Saturday at Westchester Country Day in High Point.
Although Eagle coach Andrew McCarthy had a good feeling about this year's team, there were some concerns about qualifying for the state playoffs because of changes in the NCISAA.
The organization expanded from three classes to four. Fayetteville Academy remained a 2-A team but was placed in a four-team split 3-A/4-A conference, which meant it didn't get an automatic berth in the state playoffs and strength of schedule was important in determining who advanced to the postseason.
"We didn't have a lot of head-to-head or common opponents with teams in our classification,'' McCarthy said. "Luckily, our strength of schedule was good enough to give us the No. 1 seed.''
The Eagles have been led in scoring by Hudson Zeisman with 20 goals and 10 assists. Following him is Boyce Purdie with 12 goals and 10 assists.
Goalkeeper Langdon Boliek has recorded 10 shutouts in the Eagles' 13 games.
Senior captain Julian Barbaro said he's not surprised the Eagles are back in the playoffs because of all the work they've put in this season.
"Everyone gives it all every time they step on the field,'' he said. "In the final third (on defense), we're pretty good once we keep it simple. Our defense is strong as a unit.''
Barbaro praised both Zeisman and Purdie for being unselfish. "They try to look for open plays,'' he said.
McCarthy agreed, adding that Zeisman was especially good on set pieces. "He's a fantastic athlete, a kid who loves scoring goals,'' McCarthy said. "He's a gamer when it comes to game time. He's ready to go and loves scoring.''
The No. 1 seed and double bye is both good news and bad news for the Eagles. While it gives them a break and allows them to heal from minor bumps and bruises during the regular season, it also means they're not going to be playing. The team they'll be facing Saturday, if the Eagles are still alive, will have had the benefit of one or two competitive games.
The Eagles have been in this position before, and McCarthy said it's just something you have to accept.
"You've got to make sure every practice is as sharp as possible,'' he said. "There's a method to every practice and a goal at the end of every practice.
"We have some good players, and practice can get pretty intense the way we set things up. Intensity has to come in practice whether you have a double bye or not. That's one thing we push for.''
Some of Fayetteville Academy's biggest rivals in the 2-A classification last year moved up to 3-A this season, but McCarthy said there are still plenty of tough teams left to test the Eagles this year in their bid to repeat.
"There's going to be a lot of really tough competition,'' he said. "I don't think there's a lot of difference in the top teams. Any of the top ten could cause problems.''
As usual, McCarthy expects defense to be key for whoever wins, along with keeping everyone healthy and being prepared for the opponent.
"It's the old cliche,'' he said, "one game at a time.''
Photo: Hudson Zeisman