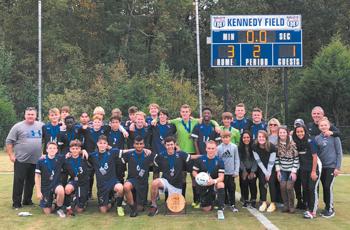 Julian Barbaro and Hudson Zeisman weren't just playing for Fayetteville Academy in a drive toward back-to-back North Carolina Independent Schools Athletic Association 2-A soccer championships.
They were playing for family and friends. When the Eagles defeated Gaston Day 3-1 to bring home this year's NCISAA state title recently, their mission was complete.
This season, Barbaro and Zeisman shared a tradition of putting a piece of tape on each other's wrists.
The day of the championship game, the band on Barbaro's wrist contained references to three people: his sister Emmi; Zeisman's mother, Missy; and the late Deacon Burgess of Terry Sanford.
Burgess was a former Bulldog football player who died from cancer. Zeisman's mother has been recovering from a double aneurysm and attends Academy soccer games in a motorized wheelchair.
Emmi Barbaro was killed in a tragic accident six years ago.
Barbaro drew special inspiration from his sister, who always used to say anything is possible and never give up.
"That was pretty much the reason I remember her throughout the game,'' Barbaro said. He had special reason to keep her words in mind as this season drew to a close. In Fayetteville Academy's senior night game, Barboro tore the meniscus in his left knee and his status for the playoffs was seriously in doubt.
He skipped one game after the injury, then took the field for the Academy's final three games, scoring two goals, including one in the championship game with Gaston Day.
"I took the risk,'' he said, wearing a brace on his knee during the playoffs. He plans to have surgery on the knee sometime this month.
"I'm so happy for my senior season to end like this,'' he said.
Zeisman also had his mother in mind when the Eagles beat Gaston Day. When the game ended, he wound up with the game ball in his hands. "The first thing that came to my mind was I was going to give it to my mom,'' he said. "She's been the one person who's been there for me through thick and thin.''
Zeisman also said he had no doubt Barbaro was going to battle through his injury in the playoffs. "He played through and scored the third goal (in the finals),'' Zeisman said. "He's a warrior.''
The run to the state title may have been easier for Fayetteville Academy than winning its own conference. The Eagles were members of the Coastal Rivers Conference, a combination 3-A/2- A league. League rival Cape Fear Christian was the NCISAA 3-A champion, while league member Coastal Christian was the top seed in the 3-A state tournament and advanced to the semifinals before losing to 3-A runnerup Gaston Christian.
McCarthy felt the Eagles' title was a combination of hard work, daily training and the high standards that have helped the school win 17 state soccer titles.
"We had nine great seniors that were involved in what we were trying to do,'' McCarthy said. "They worked incredibly hard during the summer. It was an awesome group.''
Obviously, with nine senior starters, the Eagles will take a huge graduation hit – but McCarthy is optimistic for next season. "We've got some good young players,'' he said. "We'll see if they keep developing. We're excited.''