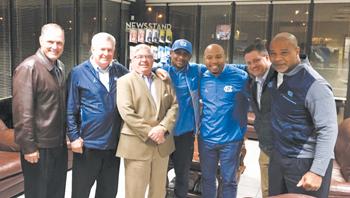 When Mack Brown returned to the University of North Carolina-Chapel Hill as head football coach last month, he had barely three weeks to jump-start the school's recruiting efforts with North Carolina high schools during the early signing period for prospects.
Thanks to the support of a couple of Tar Heel backers from Fayetteville, Brown was able to get a couple of major prospects to flip their commitments during his short time on the recruiting trail and dramatically improve the overall quality of his first class of recruits.
Fayetteville developer Ralph Huff, a UNC graduate and longtime supporter of the Tar Heel athletic program, offered Brown the use of his private plane for a whirlwind swing around the state to visit a variety of recruits one Saturday last month.
Trey Edge, who played football at both Terry Sanford and for Carolina during Brown's first term as coach there, has strong ties to the state's high school football coaching community through his years as the play-by-play announcer for Terry Sanford football.
He and Huff accompanied Brown and members of the new Tar Heel coaching staff on that journey around the state.
Edge remembers when Brown struggled through 1-10 seasons before getting his first Tar Heel football program established.
"The one thing I saw even back then was his ability to sell the university and his ability to sell himself,'' Edge said.
Edge called Brown an incredible motivator. "His ability to instill hope and belief was what got this program to a top ten program,'' Edge said. "He still has to instill hope today, and that's what people are counting on.''
One of the biggest challenges for Brown will be restoring the connection between the Tar Heel football program and the high school coaches around the state. Edge said it was impossible to disguise the fact that the relationship between the North Carolina program and the high school coaches within the state had fallen off sharply in recent years.
At the age of 67, and having been an analyst for ESPN for the last few years after winning a national championship at Texas, some might argue that Brown won't be familiar to high school athletes and coaches in North Carolina. Edge disagrees.
"He's been on TV,'' Edge said. "He was just inducted into the College Football Hall of Fame.''
Edge said the key to recruiting success for North Carolina moving forward will be the relationships Brown and his new coaching staff plan to build with the state's high schools.
"They are crisscrossing the state, being visible in every high school,'' Edge said. "They've divided responsibilities among the 10 assistant coaches. Every assistant coach will have a responsibility inside the state of North Carolina.''
The day Edge spent with Brown and several of his assistants, he said he was most impressed with the effort and energy they exhibited at the various stops they made.
It showed in the fact the Tar Heel recruiting class was rated as low as the top 90 in the country when Brown began. Just three weeks later, after flipping stars like wide receiver Emery Simmons of South View from Penn State and quarterback Sam Howell of Sun Valley from Florida State, the Tar Heel class shot up into the 40s nationally.
"It all begins with those guys willing to reestablish relationships within the state,'' Edge said. "That's what I'm most excited about.''
Huff graduated from UNC in 1972 and 20 years ago committed to give an annual football scholarship to the Tar Heel athletic program. He'd become frustrated by the fact Fayetteville and Cumberland County produced a number of North Carolina Athletic Association Division I football prospects over the last several years, but none of them wound up playing for the Tar Heels.
Huff said he wasn't a close friend of Brown during his first stint as Tar Heel football coach, but he quickly saw Brown's skills as a recruiter during the trip they took together last month.
"He is so warm and personable,'' Huff said. "He was sitting beside me on the airplane, and when he talks to you he leans over, looks you in the eye, puts his hand on your knee and connects with you. That's the kind of guy he is.''
Huff isn't overly optimistic and isn't predicting North Carolina recruiting will jump to the kind of levels national champion Clemson has enjoyed. But he's confident Brown can get the Tar Heels to a level that will rival traditional Atlantic Coast Conference powers like Florida State and Virginia Tech in a short period of time.
"Given a full year (to recruit), there's no reason we can't be No. 2 or No. 3 behind Clemson,'' Huff said.
Huff thinks it's also important for North Carolina to show some tangible results on the field in Brown's first season.
This fall's schedule will include games with South Carolina and Appalachian State in nonconference. Clemson returns to the ACC schedule, along with rivals Duke and Wake Forest, who both won bowl games last season.
"We have a hard schedule,'' Huff said. "We are clearly going to have to break even for people to think we're headed in the right direction. If we can get to 7-5 or 8-4, everybody will be deliriously happy.''
Photo: L-R: UNC-Chapel Hill assistant coach Tim Brewster, head coach Mack Brown, Ralph Huff, assistant coach Dre Bly, assistant coach Robert Gillespie, Trey Edge, and assistant coach Tommy Thigpen.