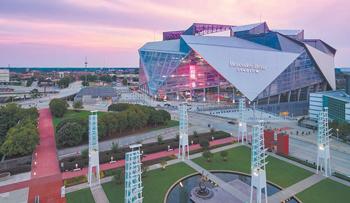 Up & Coming Weekly polled the ten Cumberland County Schools senior high school football coaches on who they think this year's Super Bowl winner will be.
Deadline constraints forced us to contact them prior to the playing of the American Football Conference and National Football Conference championship games the weekend of Sunday, Jan. 30.
The AFC finals had New England at Kansas City while the NFC game had the Los Angeles Rams at New Orleans.
Super Bowl LIII will be Sunday, Feb. 3, at 6:30 p.m. at Mercedes- Benz Stadium in Atlanta, Georgia. The game will be televised by CBS.
Up & Coming Weekly gave the coaches the option of picking both conference championship games and choosing a Super Bowl winner or just picking a Super Bowl winner from all four teams.
Here's what they said, along with my prediction at the end.
Rodney Brewington, South View — Brewington picks Kansas City over the Los Angeles Rams in the Super Bowl. "Kansas City has better quarterback play,'' he said.
Deron Donald, E.E. Smith — "The best four teams are left,'' Donald said. "I may have to go with experience over talent this time. Kansas City and Los Angeles are probably two of the most talented and explosive teams in a while. However, Drew Brees (New Orleans quarterback) and Tom Brady (New England quarterback) are proven winners and have excelled on the big stage multiple times. With that being said, New Orleans and New England in the Super Bowl.''
Donald's score pick — New England 38, New Orleans 35.
Ernest King, Westover — King picks the Los Angeles Rams. "I feel they have a good enough defense to put pressure on the opposing quarterback,'' he said. "Offensively, they have a good running game and they throw the ball well enough to have a balanced attack.''
David Lovette, Gray's Creek — New Orleans Saints. "I'm not real sure about my pick, but the Saints are as good as any,'' Lovette said.
Duran McLaurin, Seventy-First — McLaurin picks Kansas City over New Orleans.
Bruce McClelland, Terry Sanford — "Young gun (Patrick) Mahomes (Kansas City quarterback) sneaks past Tom Brady and the (New England) Patriots,'' McClelland said. "Drew Brees (New Orleans quarterback) and Sean Payton (head coach of New Orleans) squeak by the Los Angeles Rams in a high-scoring affair.
"New Orleans Saints 31, Kansas Chiefs 30 in the Super Bowl. Brees and Payton get ring No. two.''
Mike Paroli, Douglas Byrd — Paroli picks the home teams in the conference championship games, Kansas City and New Orleans. In the Super Bowl, he likes the Saints over the Chiefs.
Brian Randolph, Jack Britt — Randolph picks New England in the AFC and New Orleans in the AFC.
"I am expecting two really explosive championship games, with all four teams lighting up the scoreboard,'' he said. "I think in the end the Patriots and Saints will prevail and give us all a Super Bowl for the ages.
"My team (Carolina) was eliminated long ago, so I am just hoping for a really good game between two well-coached teams.''
Randolph picks the New Orleans Saints to win it all.
Bill Sochovka, Pine Forest —Sochovka likes the New Orleans Saints in the Super Bowl.
"Any team but New England,'' he said. "I would love to see Drew Brees get another Super Bowl ring. He is a great quarterback but an even better human being who gives back to the community.''
Jacob Thomas, Cape Fear — "Both games are very interesting matchups with high-powered offenses,'' Thomas said. "I want to go with the new blood, flashy quarterback, but my gut says don't go against (Bill) Belichick/(Tom) Brady (of New England).
"New England beats the Chiefs in the AFC. I'm going with what I think gets the slight edge in quarterback-coach combination. The Saints outscore the Rams in the NFC.
"In the Super Bowl, I'm going with the Patriots to win it against all odds."
And, just for fun:
Earl Vaughan Jr., Up & Coming Weekly — The early odds favor New Orleans to win it all, but I'm going to let my heart overrule them. My dad's family is from Missouri, with many of my relatives living near the Kansas City area.
I think New Orleans is a tough out in the Superdome, so I'm picking them to win the NFC title while I'll take Kansas City to get the most of home field and the play of Patrick Mahomes against the always-tough Patriots in the AFC final.
For the Super Bowl, I'm pulling with my relatives for the Chiefs, along with long-suffering coach Andy Reid, who I would love to see finally get an NFL championship.