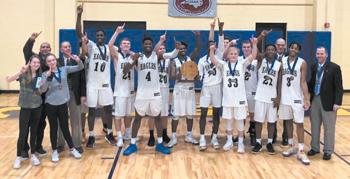 Bill Boyette isn't the type of coach who spends time trying to find good things in the losses on his schedule. But after guiding his Fayetteville Academy boys basketball team to this year's North Carolina Independent Schools Athletic Association 2-A state championship, he had to admit that a loss to Cape Fear Academy on Feb. 8 may have done his Eagles more harm than good.
The Eagles ended the season 27-3 and finished No. 2 in the entire state of North Carolina among both public and private schools, according to the MaxPreps rankings.
Boyette points to that defeat in the championship game of the Coastal Rivers Conference tournament at Harrells Christian Academy as a key to the season. It was the fourth time the Eagles and Cape Fear Academy had met each other, with Fayetteville Academy winning the three previous games.
"They are an awfully good team and we knew it was going to be a battle,'' Boyette said. His team lost the third meeting 42-40. Boyette felt the Eagles got a timely message with the defeat.
"I sensed a little complacency on our team,'' he said. "I could see we were happy where we were.''
At the time, the Eagles were riding an 18-game winning streak and were headed to the playoffs, almost certain of the No. 1 seed in the 2-A field.
"There's a lot of pressure when you're on a winning streak,'' Boyette said. "We pointed toward the one-and-done aspect of the postseason. We went back and talked about why we lost that game. We didn't do anything different at the next day of practice, realizing we had to play four quarters of basketball every single game or we would be going home.''
The Eagles did just that in their run to the 2-A championship. After a first-round bye, the Eagles rolled through four opponents with little trouble, the closest margin a 55-40 win over Northside Christian in the state semifinals.
"We just thought it was imperative we got off to great starts,'' Boyette said of state playoff stretch. He didn't feel the Eagles did that in the state semifinals and finals as the Eagles found themselves behind in both.
As has often been the case for Boyette championship teams, defense played a role in the victories. "I'm a man-to-man coach,'' Boyette said, referring to his philosophy of playing defense. "Ironically, as it worked out, we went zone from the second quarter on in the semifinals. It worked wonders.''
In the title game, the Eagles faced another familiar foe, Wayne Country Day School. Boyette recalled the rematch with Cape Fear Academy in the conference tournament and just mentioned to his team once that they'd be facing a team they'd already beaten twice in the regular season.
After the Eagles beat Northside Christian in the semifinals on Friday, Boyette said several of his players stayed around to watch Wayne Country Day in its 75-67 win over Freedom Christian in the semifinals.
"They got the idea it wasn't going to be a matter of (just) stepping on the court,'' Boyette said.
After a slow start in the title game, the Eagles took advantage of their height in the second half, pounding the ball inside to 6-foot-8 Emmanuel Izunabor and 6-foot-5 Williams Onyeodi. Izunabor scored 26 and Onyeodi added 18 as the Eagles took the third boys basketball title in school history with a 64-45 win over Wayne Country Day.
Boyette has a long history of making key adjustments at halftime and watching his team pull away in the third quarter. This time, he just had to remind them what their original game plan was.
He told them they had done nothing in the first half to execute the game plan of pushing the ball inside and taking advantage of their height.
"Early on in the third quarter, Emmanuel got some big hoops inside,'' Boyette said. "We were getting stops on the defensive end. You could see our confidence growing, and you could see Emmanuel's confidence growing.
"We just pumped it inside the entire third quarter, and that was the difference in the game.''
Boyette had his team in a zone for the entire second half, and even he admitted that, like his team, he had to make adjustments. "It's something I'm not accustomed to doing,'' he said of using the zone, "but maybe the good Lord was telling me I'm a little stubborn in my ways. He showed me a different route and it worked to our advantage.
"We were very effective in the zone. I felt it was a huge key.''
Izunabor ended the season strong for the Eagles after a long period of learning under the guidance of Boyette. "Emmanuel is a heck of a talent,'' Boyette said. "There were days I was awfully tough on Emmanuel. He'd be the first to tell you it always seemed like the coach was calling his name.''
Boyette said all the time he spent pushing Izunabor paid off. "He reached the ultimate,'' Boyette said. "He was at his very best the last two games of the season. I couldn't be more proud of him.''
Izunabor, a native of Nigeria, said playing for Boyette was tough, like learning the fundamentals of the game from the beginning.
"He helped me a lot,'' Izunabor said. "I had to take advantage of it.''
Izunabor will be one of 10 seniors Boyette loses to graduation, leaving Boyette with only two players from this year's team returning next season.
"I wouldn't trade them for anything in the world,'' Boyette said of the big group that is departing. "It's hard to say what's going to happen.
"We'll have to go with what we have. Hopefully we'll get some guys that want to make the move to Fayetteville Academy. Good Lord willing, we'll get some guys.''
Fayetteville Academy wasn't the only team from Fayetteville that advanced to the finals of an NCISAA championship game this season.
In 1-A boys, Greenfield School defeated Northwood Temple Academy 68-67. Northwood, led by University of Louisville recruit Josh Nickleberry, finished 20-14.
In 3-A boys, Carmel Christian beat Village Christian Academy 65-64. Village ended the year 22-13.
Other Fayetteville teams that advanced to the semifinal round in the NCISAA playoffs were Trinity Christian School (21-10) in 1-A boys, Freedom Christian (12-17) in 2-A boys, Village Christian (22-13) in 3-A boys, Trinity Christian School (16-6) in 1-A girls, Fayetteville Christian (26-2) in 2-A girls and Village Christian (19-6) in 2-A girls.