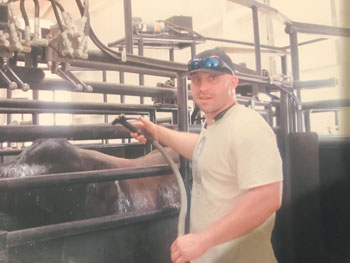 Intense competitor and exceedingly generous.

Those were the most frequent words used to describe former Pine Forest High School and Elon University football star Micheal Warren, who recently passed away at the age of 37.

Pastor Alex Dorman of the Lillington Pentecostal Worship Center delivered Warren's funeral message. Dorman knew Warren a little over 10 years and said he was as generous a person as he'd ever met.

Dorman recalled a time when his son's dog was run over and killed. Just days later, a new dog of the same breed, complete with American Kennel Club paperwork, showed up at the Dorman home.

"Mike did it,'' Dorman said. "He wouldn't ever own up to it, but he did it, just like the Bible would say, 'heartily and unto the Lord.'''

Warren first became a star at Pine Forest, playing for a trio of men who would all be head football coaches. His head coach was Dean Saffos and his position coaches were future Pine Forest head coach Bill Sochovka and future Jack Britt and Scotland coach Richard Bailey.

"He did everything we asked him to do and he did it with 100 percent, with great intensity,'' Saffos said.

Saffos said Warren turned down multiple college football scholarships to walk on at N.C. State. Things didn't work out with the Wolfpack so he transferred to Elon, where he became an all-conference player. He had a brief career with a couple of NFL teams, then eventually relocated to Texas where he operated a ranch that specialized in rehabilitating bulls injured in rodeo competitions.

Sochovka was one of Warren's position coaches at Pine Forest. "He just had no fear of anybody playing against him,'' Sochovka said. "He was hard-working and never knew when to quit. He just loved the game.''

Bailey was first impressed with Warren when he, Sochovka and Saffos were watching him play on the kickoff team for the Pine Forest junior varsity.

"Every time on the kickoff he ran down and made the tackle,'' Bailey said. "I said that kid right there is going to be a linebacker. He has a nose for the ball. He would run through people to make the tackle.''

During his time at Pine Forest, Warren grew an inch taller and gained about 40 pounds Bailey said. "He worked hard in the weight room,'' Bailey said.

Warren had a close connection with his teammates that was visible at his funeral as many of his defensive cohorts form 1999 traveled to attend the service.

"That group in 1999 had a special bond,'' Bailey said. "That defense was the best I ever coached. He was a big part of that.'