Cumberland County had a good showing in the recently-completed Holiday Classic basketball tournament, with county schools taking championships in three of the four brackets.

This was the second year of a major format change in the tournament that was instituted by Cumberland County Schools student activities director Vernon Aldridge.

After years of the county schools facing each other as many as five times in one season, Aldridge instituted the change that divided the 10 county schools into four brackets and brought in outside schools to lower the chance county schools from the same conference would meet each other in the tournament.

"We got a lot of compliments from the outside schools on how the tournament was run,'' Aldridge said. One email from Eric Davis, coach at Wilmington Laney, called the tournament the best run event of its kind he had seen in his 19 years as a coach.

Here's a look at the three brackets of the tournament that were won by Cumberland County Schools.


Boys
Len Maness Bracket

Westover's boys downed Middle Creek, Laney and county rival Cape Fear en route to the championship.

Wolverine head coach George Stackhouse felt his team's depth allowed Westover to utilize different styles of play and maintain poise in a couple of games when they didn't get off to a good start.
Ma'Nas Drummond of Westover was named the Most Valuable Player of the Maness bracket, scoring 18 points in the title game to lead Westover to the win.

"We felt confident he was going to be able to contribute a lot this year,'' Stackhouse said of Drummond. "His teammates and everybody were very happy he was able to get MVP.''

Stackhouse said he feels his team is in a good place as it heads into conference play immediately after the holiday break. "We've still got a few things we need to work out,'' he said. "I'd like halfcourt execution to be better.
"We've got to get everyone playing up to their ability, playing together as a team, see if we can't keep improving.''


Ike Walker Sr. Bracket

Terry Sanford downed Corinth Holders, Pine Forest and Southern Lee en route to winning the Walker bracket. Coach Karl Molnar said he's been impressed with his team's ability to work hard and move the basketball all season, and that continued during the run through the tournament.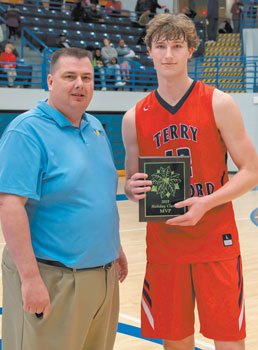 If there was a shortcoming the team showed during the tournament, it was the inability to slow down individual opposing players who were on a shooting hot streak.

"It's hard to win much of anything without playing some good defense,'' Molnar said. "We've not quite mastered how to shut down that one kid that gets going. But we've managed to keep our opponents quiet as a whole and put us in a position to move the ball around and be successful offensively.''

Molnar's son, Davis, was chosen as the MVP of the Walker bracket, scoring 25 in the title game with Southern Lee.

Molnar said he and his son have frequent basketball conversations on and off the court. "Davis knows as player-and-coach or father-and-son he can talk to me,'' Molnar said. "He had a good run of three games, and they came at a good time.''

Molnar felt it was a good sign for county basketball that three of the four finalists in the boys' brackets of the Holiday Classic were from Cumberland County.

"It's looking pretty strong for us,'' he said of the county teams. T
hings are looking good for the Bulldogs as well as they'll enter into January's conference schedule awaiting the return of football standout Ezemdi Udoh, who missed the Holiday Classic because of his participation in the Shrine Bowl of the Carolinas.

"
We can't wait until we get him on the same sheet of music,'' Molnar said.



Girls
Gene Arrington bracket
E.E. Smith's girls served notice on the rest of the Patriot Athletic Conference that even though they are young, they've apparently recovered from the graduation losses suffered last season.

Smith downed Corinth Holders, Westover and Wilmington Hoggard en route to the Arrington bracket championship.

Ke'Onna Bryant won MVP honors for Smith, playing a critical defensive role for her team en route to the championship.

Smith coach Dee Hardy praised Bryant for her aggressive play in the tournament and said she stepped up in key situations where Smith needed a steal or a rebound.

In the 41-32 win over Hoggard in the tournament final, Hardy said she learned some things about her young team and its perseverance and ability to maintain focus.

"We were able to get a lot of five-second counts and out-of-bounds plays,'' Hardy said. "That was great to see.''

If there was one troubling result from the tournament it was the fact Smith was the only Cumberland County girls team to make the championship round.

The next highest finishes from the county were third by Jack Britt in the Tom Jackson bracket and third by Westover in the Arrington bracket.

Hardy said she hasn't seen all the county teams yet so she really can't say how strong the conference is. For now, she's focusing on her team.

"Our main focus will be trying to be disciplined and play self-motivated,'' Hardy said. "We really need to fine tune some things and go back to some basics.''

Picture 1: Ke'Onna Bryant won MVP honors for Smith, playing a critical defensive role for her team en route to the championship.Photo Credit: Matt Plyler

Picture 2: Ma'Nas Drummond of Westover was named the Most Valuable Player of the Maness bracket. Photo Credit: Matt Plyler
Picture 3: Davis Molnar was chosen as the MVP of the Walker bracket, scoring 25 in the title game with Southern Lee. Photo Credit: Matt Plyler