This time of year, high school football coaches are usually getting ready for a long summer of conditioning workouts with their teams in preparation for the start of official practice in North Carolina on August 1.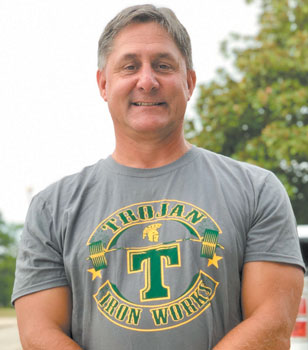 But the COVID-19 pandemic and lingering uncertainty over what kind of, if any, football season we'll have this fall has the Cumberland County Schools senior high school football coaches taking a far more cautious look at what a return to the sport could mean.
None are more circumspect in their feelings about this fall than veteran Pine Forest coach Bill Sochovka. Like all of his fellow coaches, his main concern is the health and safety of his players and coaches. He'd like to wait and see what goes on in states that are opening up practice faster than North Carolina.
"A later date would give us a better understanding,'' he said, adding he'd prefer to have preseason practice no earlier than July 1.
"People forget that high school sports, particularly football, is a natural petri dish for germs,'' Sochovka said. "Anytime a kid gets a sniffle or a stomach bug, you're going to have six or seven kids on the team wind up getting it.''
Sochovka said the sport of football is already under the microscope for how it handles injuries because of the recent concern for the treatment of players who suffer concussions. "We've got to think about kids and safety first,'' he said. "We've got to be smart about it.''
Another concern is just what kind of football we'll be playing when the sport first resumes. Jake Thomas, coach at Cape Fear, noted that the preliminary practice guidelines set down by the National Federation of State High School Athletic Associations turn practice into more of a case of strength and conditioning than actual game practice.
"Screening every athlete and coach every time you meet with them seems not financially feasible,'' Thomas said. "Schools already have limited budgets, and now football games without fans and a band
will financially destroy high school athletics and many schools.''
Thomas thinks coaches may need to look for pre-determined risk factors like a respiratory condition and possibly not allow at-risk athletes to come out for the team.
"At some point, we have to go back to living life and stop hiding in fear,'' he said.
Terry Sanford coach Bruce McClelland said his staff has already worked out a rotation of players to limit numbers in the school's weight room, along with plans to sanitize all areas used by players and team staff.
"There are so many different professional opinions I have listened to — it's become confusing,'' he said. "I am honestly hoping we get some good news in the near future from the medical field that will help make this an easier decision.''
Seventy-First coach Duran McLaurin would love to be practicing, but he's cognizant of what that could entail. "I'm very concerned with keeping my players safe more than any reward I can think of right now,'' he said.
Regardless of what happens, the advice given by new E.E. Smith head coach Andy Karcher is likely the wisest. "The biggest takeaway from this is to be patient, keep everything and everyone as clean as possible and don't take any unnecessary risks,'' he said.