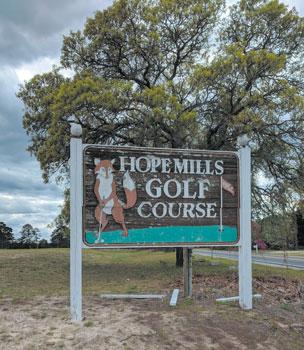 I currently serve as senior class president at South View High School as well as chairman of the Hope Mills Mayor's Youth Leadership Committee. I was invited to join the Youth Leadership Committee along with students from South View, Jack Britt and Gray's Creek.
One of the first tasks we were given to explore was what should replace the old Hope Mills Golf Course on Golfview Road. As a committee, we unanimously agreed that one thing Hope Mills needs is a sportsplex.
The funding for the land has been offered by multiple organizations. We decided that with a joint effort, the most suitable things to put on the old golf course land are recreational facilities such as transitional fields, a disc golf course, a 9-hole golf course and a sportsplex.
The sportsplex would house things like a recreational gym, an indoor track and, ultimately, an Olympic-sized pool. The Olympic pool would be the keystone to the facility.
The decision to build a sportsplex comes as recreational sports in Hope Mills have begun to oversaturate the currently allocated space. Not only will this new addition improve sports facilities, it will also allow for growth in local sports and regional development.
The complex would provide the entire Cape Fear region with additional athletic opportunities, especially in the area of swimming. A quick Google search reveals that a Hope Mills resident currently has to travel as far as the Triangle or southeast to Wilmington to find accessible public indoor swimming facilities.
An indoor swimming complex would be a boost to competitive swimming locally, which is a growing sport for Cumberland County and other Cape Fear region high schools.
Students who compete in swimming for Jack Britt, South View or Gray's Creek have to travel across town to Fayetteville State University for practice at around 5 a.m. This travel creates an extra challenge in both practice and competition for students at the county's high schools.
To help contribute to local sports and increase participation in competitive swimming, we decided that an Olympic pool would best be included in the sportsplex. If students who were interested in swimming only had to travel to a complex at the old golf course – which is between Jack Britt and South View – the sport of swimming would have an even better chance to grow, while also giving the high school swimmers more regular access to a practice facility.
Creating a sportsplex not only gives a better opportunity for those who don't have the means of traveling to Fayetteville State, but it also helps those who live close to where the current golf course is located to become more active and involved within the community.