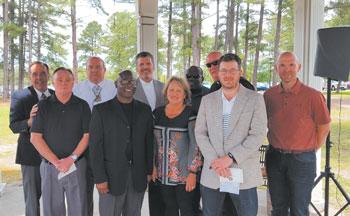 Dr. Bob Kretzu thinks the National Day of Prayer observance scheduled at Hope Mills Town Hall on Thursday at noon is anything but a symbolic gesture.
"I think it's important for us to be on location in public places,'' said Kretzu, pastor of Hope Mills United Methodist Church. "I think it's even morepowerful for us to pray for our community leaders there rather than in our churches. It's easier to gather people from different churches at a neutral site like the town center."
To me it's important to affirm as a part of our heritage. President George Washington called us to a national day of prayer.
''Kretzu has tentatively arranged for about a half dozen pastors from local churches to take part in this year's event at the flag poles at the Hope Mills town hall.
Among those Kretzu has asked to attend are Mike Wells of Hope Mills Church of God, Wilbert Harrison of Hope Mills First Baptist Church, Tim Gore, chaplain for Liberty Hospice, Ron Godbolt of Word of Truth Ministry, Zach Kennedy of Highland Baptist, John Locke of St. James Lutheran Church and Pat Snyder from Good Shepherd Roman Catholic Church.
"We've invited pastors and lay people to pray about different, specific areas, for national and state leaders, for pastors, for troops and first responders,'' he said.
"The goal is for people to be able to do this during their lunch break. We normally have about 50 to 60 people in attendance.''
In addition to the clergy invited to attend, people from the crowd will be invited to offer prayers if they wish. The theme for this year's National Day of Prayer is Ephesians 4:3, which says, "being diligent to preserve the unity of the spirit in the bond of peace.''
"When people come together, it's a wonderful experience,'' Kretzu said. "We saw it after 9/11.'' Kretzu thinks unity is especially important now with all the tension being experienced in places like Syria, North Korea and Iran.
There will be no hymns during the prayer service, but Kretzu said the ceremony will end with the group singing "America the Beautiful."
Call Kretzu at the church at 910-425-0108 with any questions.
He said plans are also in the works for Sunday on the Lake, which is scheduled at 6 p.m., July 1, at the restored Hope Mills Lake. That ceremony will be one element in a multi-part celebration of the return of the lake to Hope Mills."
That service will be about 95 percent music,'' he said of the lake event. It will be held in the area nearest the lake gazebo.