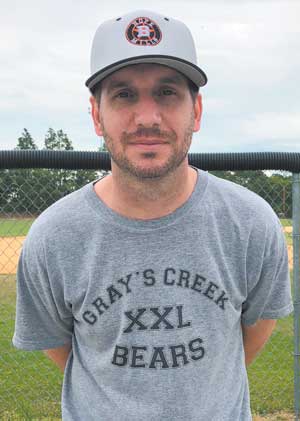 After making it to the final eight in the state playoffs three of the last four years, the Hope Mills Boosters American Legion baseball team saw their 2018 season come to an earlier and abrupt end this month.
The Boosters lost two in a row in their first-round playoff series, one by forfeit, to end the season 7-14 overall and 7-7 in Area II play.
It was one of the earliest exits coach Mark Kahlenberg could remember for the Boosters since he began helping out as an assistant coach about eight years ago.
Kahlenberg said the team began coming apart in the final weeks of the season because of a familiar problem. Some players were on vacation, some decided not to play the remainder of the season, and others didn't show up for games consistently.
"When everyone was there, we put a pretty decent team on the field,'' Kahlenberg said. "We competed with most of the teams in the conference.''
The outstanding season Terry Sanford's team had, advancing to the 3-A Eastern Regional championship series with Wilmington New Hanover, may have hurt the Boosters in the long run, Kahlenberg said.
"When you get a team that makes that late run, plays that many extra games, we're already two weeks into our season,'' Kahlenberg said.
After such a long season, Kahlenberg said it was understandable the Terry Sanford players who were headed to college might want a break before reporting to school, so they chose not to play for the Legion team this summer.
Another problem for the Boosters was a sharp drop in offensive production. Will Rosser of Terry Sanford was the only Hope Mills player who batted over .300, hitting .389.
The team batting average dropped to .233 this season. After hitting 30 home runs last year, Hope Mills managed just two this season. The 2017 team had 85 extra base hits. This year's team had 20.
Matthew Little from Cape Fear was the top Hope Mills pitcher. In 25.2 innings, he had a team-best 2.18 earned run average.
Kahlenberg said the team greatly appreciated its new association with the Massey Hill Lions Club this season.
"I had a lot less on my plate for all the home games,'' Kahlenberg said. "They did the gate, the concessions, announcing and got ice and water for both teams."
One big improvement the club has already made for next year is Lion Club's purchase of an old school bus to take the team to away games. Transportation was a real problem in the playoffs as some players were involved in a car accident en route to the first playoff game at Wallace. No serious injuries were sustained, but the accident resulted in Hope Mills having to forfeit the game.
"Having transportation is exciting news for our program,'' Kahlenberg said. "We will be able to get everyone together prior to arriving at the park.
"This gives us more time together as a team and to talk baseball. I can't thank the Massey Hill Lions Club enough for what they have added to our program.''
Looking ahead to next season, Kahlenberg said he plans to reach out to the schools that the Boosters will draw from to gauge player interest and get firm commitments from players.
"We've got some work to do,'' he said.
PHOTO: Mark Kahlenberg