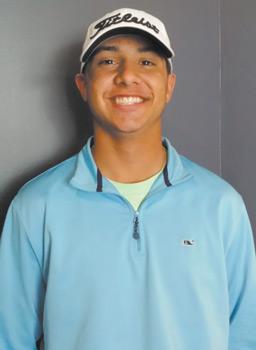 Summer may be for vacations for most people, but don't tell that to Jack Britt High School and future N.C. State golfer Spencer Oxendine.
One of the state's top junior golfers, Oxendine played in 10 tournaments during the summer break, at one point going 11 straight days in tournament competition.
The funny thing about it was, he didn't enter the summer with a goal of winning. "In March, I was talking with my N.C. State coach (Press McPhaul) and I told him my main goal wasn't to win,'' Oxendine said. "It was to have a good summer, play solid all summer and make it to the Carolinas-Virginia match play team matches.''
Oxendine accomplished that goal and managed to bag some wins along the way.
He won the Hope Valley Junior in Durham and the Creed Invitational in Camden, South Carolina.
He also achieved his dream of making the Carolinas team in the Carolinas-Virginia match play and sank a key putt that led to the win by the Carolinas team.
Oxendine said summer golf is more important than next spring's high school season as far as preparing for what he'll face in college, which will start a year from now after he completes his senior season at Jack Britt.
"(In the summer) you're going to get the strongest fields, playing the most amount of golf,'' he said. "In college you're playing a ton, so it helps big-time getting ready.''
He said the stretch of 11 consecutive days of golf this summer was eye-opening for him.
"When you're in a situation like that, you know it's going to be a long week and you prepare for it,'' he said.
Since winning at Hope Valley, Oxendine said he hasn't touched his clubs to give himself a needed break. "I was going to withdraw from Hope Valley, but I'm glad I didn't,'' he said. "We had walked 36 holes the Saturday before. Everything in my body was hurting.''
His competitive golfing for this year isn't quite over. He's got a handful of tournaments scheduled in the fall, including events in Spartanburg, South Carolina; Sea Island, Georgia; Myrtle Beach, South Carolina, and one at Harbour Town Golf Links in Hilton Head, South Carolina.
"This is my offseason,'' he said of the next several weeks. "I'll be working out a lot more, working on my game. During the summer, I don't make any changes. This is my time to work on my game.''
He used the tournaments this summer to see where his game is and learned a valuable lesson. "Even if I'm hitting poorly, I can still win and play well,'' he said. "I hit the ball the worst I did all summer at the Carolinas Junior and finished third.''
As he approaches his final high school season, he's setting some goals for himself. "I'd like to beat the conference record I set last year,'' he said. He was the only golfer in the Sandhills Athletic Conference who played in all five regular-season matches last season and broke 70 for the year with a 69.6 average.
His biggest goal is winning the North Carolina High School Athletic Association 4-A golf championship, but he knows that will be a challenge.
His major competition will come from Raleigh Broughton's Peter Fountain, a University of North Carolina commit, who lost in a playoff last year with Oxedine's conference rival, A.J. Beechler of Pinecrest. Beechler and Fountain shot 145 over the two-day tournament while Oxendine tied for seventh with a 149.
"He's a really good player and a great guy,'' Oxendine said of Fountain. "Whatever happens, happens.''
Photos: Spencer Oxendine