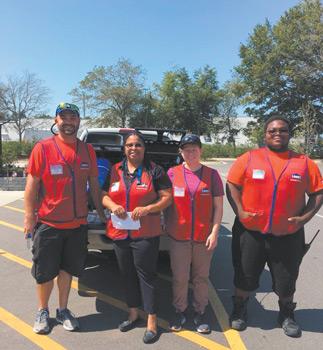 In the Gospel of Matthew, Jesus tells his followers to ask and it will be given to them.
Hope Mills Mayor Jackie Warner learned that in a time of natural disaster, the Lowe's store in Hope Mills takes that admonition literally.
Immediately after Hurricane Florence came and went through Hope Mills, a disaster relief team from the Alabama Baptist State Convention arrived at Southview Baptist Church on Elk Road and set up operations with their mobile trailer.
They were here to provide meals for various relief shelters around the county.
Warner stopped by to introduce herself to the Alabama visitors and ask if there was anything she could do to help.
As it turned out, there was. A second wave of vol­unteers from Alabama would be arriving within days to help with the cleanup. Unlike the cooking team in the trailer, they would not be coming fully equipped for the job they wanted to tackle.
They provided Warner with a shopping list, a rather lengthy one. It included items like rakes, wheelbarrows, masks, safety glasses, gloves and protective suits for cleaning up hazardous substances like asbestos.
Warner immediately turned to Jennifer McMillan, the manager at the Hope Mills Lowe's, which opened about a year and a half ago.
"Lowe's has come in and become a part of the Hope Mills community,'' Warner said. "They started by making a contribution to the special needs playground we're going to set up. Anything we need, they'll support.''
McMillan wasn't working that day, but Warner gave her the shopping list and McMillan's team at Lowe's took care of the request.
McMillan told Warner to give her a number on how much of each item she needed. The folks from Alabama gave Warner an estimate but would have been glad to get anything they could, she said.
Warner said Lowe's came through with 35 pairs of work gloves, 30 masks, 30 pairs of safety glasses and protective suits, along with 10 rakes and six wheelbarrows.
"I went there for whatever I might get, and they gave us exactly what I needed,'' Warner said.
McMillan, who saw the damage Hurricane Matthew did to Hope Mills, said Lowe's isn't just a for-profit organization. We are an organization that is there specifically to take care of the community,'' she said. "We position ourselves to be available, especially in areas that are impacted.''
McMillan said Warner has been an avid supporter of Lowe's since it came to Hope Mills as well as a good customer. "When she came, we knew there was going to be a need in the community,'' McMillan said. "We wanted to be there to support the community from Lowe's perspective and to be able to support the mayor as well.''
McMillan said it comes down to basic human kind­ness. "We care about our communities. We live in our communities, and we want to make sure everything gets back to normal as quickly as possible and that those in need have the ability to provide solutions for themselves as quickly as possible,'' she said.
"They have become a great team member of Hope Mills,'' Warner said.
As for cleanup of the entire town, Warner said Hope Mills is ahead of where it was after Hurricane Matthew came through.
"I believe the difference between Matthew and Florence is we were prepared," Warner said. "People have started signing on to FEMA because they have the contact information. We already have trash and debris pickup."
Photo: A group from the Hope Mills Lowe's (left) helped provide supplies for volunteers who came from the Alabama Baptist State Convention (right)