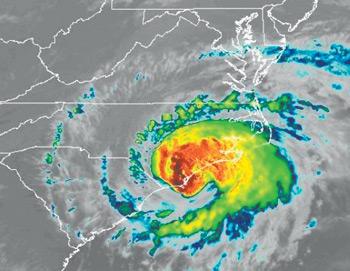 Damage caused to the Hope Mills Parks and Recreation Center offices will force this year's fall one-stop voting to relocate from there to the Gray's Creek Recreation Center.
Both Cumberland County Board of Elections officials and representatives of Hope Mills are hopeful that voting will return to the recreation center on Election Day in November. If it can't, Election Day voting will move to Town Hall.
Terri Robertson of the Cumberland County Board of Elections said she was informed there was dam- age to the center that could not be guaranteed to be repaired by the time one-stop voting begins Oct. 17.
Robertson said nothing about one-stop voting will change in Hope Mills except the location. Hours of operation will be the same. To confirm what those are, visit the Board of Elections website at www.co-Cum-berland.nc.us/departments/election-group/elections.
Adams said the recreation center had already been scheduled for repairs caused by possible condensation from the air conditioner before Hurricane Florence arrived. The storm did further damage to the roofing, which led to interior leaking and damage inside the building.
The repairs of the earlier damage have been rescheduled to coincide with the repair of the roof.
Adams said the town is in the process of getting bids on the repair work. While insurance will pay for some of the cost, she said the matter will likely have to go before the Board of Commissioners for approval.
If the bids are obtained in time, she hoped to make the presentation at the board meeting scheduled for Oct. 8. If the bids weren't available by then, she indicated a special meeting may have to be called since she didn't want to wait until the next scheduled meeting on Oct. 22 to get approval to begin the repairs.
In addition to forcing a change in one-stop voting, the damage to the recreation center has forced parks and recreation staff to temporarily relocate to space in Town Hall so they can continue planning for the town's big Ole Mill Days and Trunk or Treat events coming up later this month.
The damage has also disrupted the schedule of many regular activities held at the recreation center.
"We are terribly sorry for the inconvenience for events scheduled at parks and recreation,'' Adams said. "We are trying to work as quickly as possible so they don't have to be disrupted any longer than they have to be.
"We apologize and ask for the public's patience.''