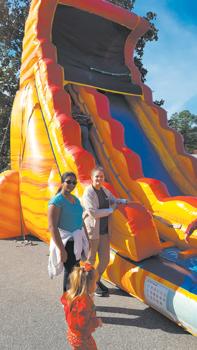 Some things about the annual Hope Mills United Methodist Church Christmas Bazaar have changed though the years, like the date it was held and the name of the event, but the purpose has basically remained the same: give the people in the community an opportunity for wholesome fun while raising money for a worthy cause.
All of the net proceeds from this year's bazaar, which is scheduled for this Saturday, Nov. 17, at the church, will benefit the Hope Mills ALMSHOUSE, an ecumenical ministry that supports the community's underprivileged.
"We really believe in the churches working together, and the ALMSHOUSE is a great example of that,'' said the Rev. Bob Kretzu, pastor at Hope Mills United Methodist. "It's a nondenominational, cooperative mission, not only helping people with the flood but other people in need.''
Even if there wasn't a money-raising angle to the bazaar, Kretzu said, it's still a great activity for the entire community.
This year's bazaar is scheduled to run from 8 a.m. until 2 p.m. and will feature a variety of activities.
Events for children are scheduled from 8 a.m. until noon.
"The whole front of the church will be set up with games for the kids, (including) an 18-foot tall inflatable slide and a bouncy house,'' Kretzu said.
There will be various games with prizes to be won, and children can get their photo taken with Santa Claus for $5.
There will also be a raffle with tickets going for $2 each or 10 for $10.
The top raffle prize is a $500 gift card from Walmart. Second prize is a $300 card from Lowe's, while third prize is $100 in cash.
If you can't attend the bazaar, you can drop by the church during regular business hours, Monday through Friday from 9 a.m. until 1 p.m., and purchase raffle tickets.
There will be 27 different vendors in the church's family life center.
The items that will be available for sale include crafts, essential oils, clothes, barbecue sauce, jewelry and dolls.
A silent auction will also be held at the bazaar. Among items up for bid are a large stand fan, an iPad and a Nordic track.
A chicken dinner catered by Paradise Acres can be purchased for $8 per plate. The meal includes chicken, two sides and a drink. There will also be a bake sale.
Breakfast food prepared by the church volunteers will also be available during the morning hours of the bazaar.
For questions about the bazaar, contact the church at 910-425-0108.