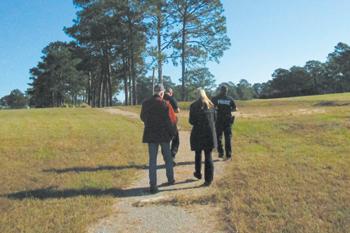 "It would give the citizens another place to walk during the day other than Municipal Park," Commissioner Meg Larson said.
During the Nov. 5 Hope Mills Board of Commissioners meeting,Larson suggested the town reopen the golf course, which has been closed to the public since spring 2014, for use as land for walking trails.
Larson was among the handful of people who toured the golf course in October. Hurricanes and years of neglect have destroyed portions of the course. One specific area, adjacent to Golfview Road, has completely washed away. The paved walking path is gone, and there's a hole 15 feet deep and nearly 30 feet wide. Utility wires and cables protrude on both sides of the hole. That area would have to be repaired before the public could access the trails.
Additionally, there is no driveway or parking available, and the owner of the existing parking lot refuses to consider leasing his land to the municipality. Mayor Pro Tem Mike Mitchell suggested the board spend $50,000 to install a turn lane on Golfview Road and negotiate with the North Carolina Department of Transportation to create a new driveway and parking lot, both at additional costs.
One local contractor with more than $120 million dollars of contract experience, who requested anonymity, indicated that, in addition to the $50,000 turn lane, a driveway and parking lot would cost $30,000, and repairing the erosion damage could cost another $20,000. These are conservative estimates. This does not include mobilization costs, proof rolling, new signage, insurance, benches and trashcans Larson wants, and new maintenance costs. And, the town already spends $25,000 a year to maintain the lot.
Less than a half mile from this proposed walking trail, Municipal Park has a designated walking path. It's never crowded, it's clean, and it has ample parking, benches, lights and access to other amenities. And it's paid for.
Larson's plan may also conflict with the $87,000 comprehensive parks and recreation plan commissioned by the board. McAdams Group has been working on that plan for months, and the board expects the results in early spring, around the same time they plan to reopen the golf course.
Commissioners Jesse Bellflowers said Larson's idea was premature, and he urged the board to wait for direction from McAdams before making a commitment.
Larson and Mitchell cited the impending McAdams Group survey as a reason to deny a request to buy municipal land from Lone Survivor Foundation earlier this year. On multiple occasions, they referenced the survey and the importance of not making premature decisions that may later conflict with the recommendations of that survey.
Commissioner Pat Edwards reminded the board of the many projects that need to be finished. The previous board voted last year to approve the second phase of the lake plan, but this board has consistently voted to change that plan. The engineer provided the board with multiple draft changes, but the board has not committed to anything. We're no closer to a historical park and museum than we were a year ago.
Hope Mills residents have not expressed an interest in additional walking paths. The McAdams Group survey indicated residents wanted a pool/ splash pad, outdoor amphitheater, multipurpose fields, pump track (off-road terrain for cycle sports) and green-way trails.
In April 2019, the board will receive the final golf course conceptual site plan and draft recommendation. These are prerequisites for applying for grant funding to develop the golf course.
What happens if their concept and draft recommendation conflicts with the newly developed walking trails? Will the board move to undo everything the taxpayers have just paid for, to accommodate the McAdams Group recommendations?
Or, will the walking trail be another reason for the board to condemn McAdams Group and reject the proposal? Commissioners Jerry Legge and Larson have been very vocal in expressing their disappointment in McAdams Group's early results.
Despite the warnings and the lack of public interest in additional walking trails, the board voted to move forward with Larson's plan. This same board voted to delay replacing the failing phone system and to delay purchasing a security system for Town Hall, proving our systemic problems always take a backseat to the board's private agendas.
It's also worth noting that two board members have already cautioned they will likely have to raise taxes for fiscal year 2019. The board barely managed to stay in budget for this year. And, in addition to raising their own salaries and implementing travel stipends and cell phone stipends, they'll have to finance the new walking trail — which, like the existing walking trail, will not generate revenue to offset its costs.
What's clear is that Larson continues to flounder. For nearly four months, she referenced the McAdams Group survey, declaring its importance above all else.
She voted twice to deny selling lake bed #2 to Lone Survivor Foundation based on the premise that every inch of municipal land was being evaluated by McAdams Group for development. Now, when LSF is no longer an issue, she's ready to abandon the $87,000 expert opinion we paid for.