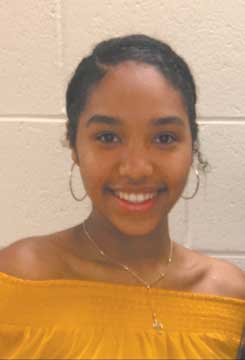 The new members of the Mayor's Youth Leadership Committee for the town of Hope Mills were recently introduced to the town's Board of Commissioners.
The new chair of the group is Ashilyn Burgos, a senior at Gray's Creek High School.
Melissa Chuy of Jack Britt High School is vicechair, and William Pryor of South View serves as secretary.
Hope Mills Mayor Jackie Warner said the purpose of the youth committee is to get the members involved in town government and leadership so they can understand the roles of elected officials and things taking place in Hope Mills.
Organizers of the committee also try to involve members in a specific town project. Last year the committee worked on two surveys, one for the town's multi-modal project and one for the Parks and Recreation department.
This year the group will focus on the town's historical district and properties, with a goal of learning as much as they can about the town's historical homes and buildings and reporting back to the commissioners with their findings.
When possible, the youth committee members are also encouraged to attend the Hope Mills Citizens Academy for more detailed understanding of how local government works.
Burgos said she is also active with the Fayetteville-Cumberland County Youth Council, so the work done by the Hope Mills youth committee relates to what she's already doing there.
She said she's been involved with activities like the Hope Mills youth committee since she entered high school. "It's the kind of career field I want to go into,'' she said.
She is looking forward to learning more about the history of Hope Mills in her role with the youth committee because it's something she hasn't explored.
She thinks it's important for people to understand and be aware of the history of the community where they live. "It makes it more interesting if you know the backstory,'' she said. "I think this involvement will definitely give me a good footing into what government has to offer and what it involves.''
Following are the other members of the new Hope Mills Youth Leadership Committee: Jack Britt High School — Kiara Ramos, Ethan Finney.
Gray's Creek High School — Emily Gonzales, Kayla Mady.
South View High School — Nautia Carter, Morgan Evans.
Photo: Ashilyn Burgos