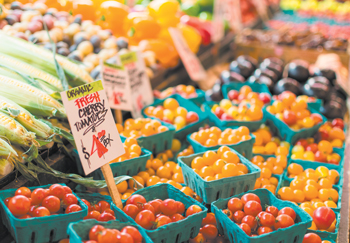 The town of Hope Mills is preparing to roll out its first farmers market in hopes of uniting consumers and area and regional farmers for the benefit of both.
Town manager Melissa Adams said that about a year ago she established a staff committee to see if the town could expand its successful venture with the food truck rodeo. The initial plan was to look into various areas where the town could branch out into the fields of art and culture. One of the ideas that sprung from those committee meetings was a farmers market.
Adams said the intent was not to compete with any existing enterprise of that nature in the Hope Mills area, but to bring an added value to the town.
The plan is to hold the farmers market in the areas near the municipal ball fields at the Town Hall and Parks and Recreation building complex.
"We've got the grounds we can use and we've got the parking,'' Adams said. "We can try to get something off the ground and see if it can be successful.''
The initial plan is to start the farmers market the first Saturday of the month, beginning in May and running through October.
"If it grows and is wildly successful and our vendors say, 'I want to come every Saturday or every other Saturday,' we'll look at that," Adams said. "We don't want to bite off more than we can chew. If it grows, great.''
Tiffany Gillstedt, deputy town clerk, has been researching farmers markets operated by other municipalities to get a better understanding of rules and regulations in place that have made them successful.
Adams said the Hope Mills farmers market will be governed by a mixture of rules that the town decided to adopt, along with good practices borrowed from other communities doing the same kind of thing. These rules and regulations will be posted on the town of Hope Mills website, www.townofhopemills.com, and also shared via social media, Gillstedt said.
Initially, all vendors will be invited from within a 100-mile radius of Hope Mills, with the additional requirement they live in North Carolina.
More information about how to apply to be a vendor is listed on the town website. At some point, Adams said, the town may screen vendors from outside the area and allow them to take part in the farmers market.
The guidelines for vendors include a detailed list of the items that can be sold at the farmers market; that list is dominated by homegrown and homemade items. All items vendors plan to sell must be submitted to the town's Art and Culture Committee for approval.
No animals can be sold or given away at the market.
Each vendor will pay a fee of $50 that will allow that vendor to sell items at all six of the scheduled farmers markets. For a fee of $20, a vendor can attend a single farmers market and can specify on the application which month they'd like to take part.
Adams said the town is starting out modestly with the fee it will charge in hopes of increasing participation over time.
The town is also considering linking participation in the farmers market with participation at the town's annual Ole Mill Days celebration.
Adams said she has been working with staff to increase the number of handmade items available at Ole Mill Days and become less dependent on manufactured items, while still allowing those types of goods to be sold.
The tentative plan is to give vendors who come to the farmers market a discounted fee to be a vendor at Ole Mill Days. "I would really like to see it become more of an arts and crafts festival,'' Adams said of Ole Mill Days. "I think it would draw in a whole other group of people hungry for that type of event, something different for our citizens that brings more value to living here in Hope Mills.''
The initial farmers market will coincide with the annual Hope Mills spring cleanup and shredding event in the Town Hall area. Adams is hoping that will draw additional foot and vehicle traffic to the first farmers market.
The June farmers market will be held in conjunction with the town's annual Pet Fest, which will also hopefully boost attendance.
Initially, the farmers market will be under the leadership of Chancer McLaughlin, the town's development and planning administrator.
The hours for each farmers market will be from 9 a.m. until 1 p.m.
Adams stressed that the farmers market program will be a work in progress and subject to any changes that the town feels will make it work better.
Anyone with questions about the first farmers market, what to bring or how to apply can check www.townofhopemills.com or contact McLaughlin at cmclaughlin@townofhopemills.com.