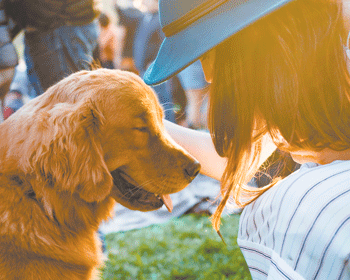 Hope Mills is going to the dogs. Fortunately, this will be in a good, family fun way. Hope Mills Park, at 5770 Rockfish Rd., will be the site of the sixth annual Pet Fest on Saturday, June 1. The event, sponsored by Naturally Unleashed and promoted by Cumulus Broadcasting, is scheduled to run from 10 a.m. until 3 p.m.
Kelly West of Rock 103 FM said the primary purpose of Pet Fest, aside from giving pet owners a chance to congregate and interact with their beloved animals, is to raise money for the Fayetteville Animal Protection Society. "It's just wonderful to give back to them,'' she said.
The way to support FAPS via Pet Fest is to register to take part in the 5K pet walk that will be held as part of the festivities. The registration fee is $15, with the money going to FAPS. To register online, go to the Rock 103 website, www.rock-103rocks.com. A link is posted there to access the registration form.
Pet Fest used to be held in the Naturally Unleashed parking lot on Boone Trail Extension, but that created a problem. The parking lot is asphalt, West said. "This is an animal thing,'' she said. "These animals need to stand on grass and be in a nice park area.''
So the event was moved to Hope Mills Park. "It has been nothing but good for them,'' West said of the relationship with Hope Mills. "It brings a lot of people to the park that otherwise wouldn't know it's there.''
Pet Fest will get an additional boost this year as it will be held in conjunction with the second Hope Mills Good2Grow Farmers Market. "They'll have the farmers market stuff and we'll have food vendors, so it's going to be a fun day,'' West said.
Food vendors will just be a small part of the activities associated with Pet Fest, West said. An artist who does caricatures of animals will be on hand to draw images of pets.
There are also several contests scheduled, including a pet and owner look-alike contest. There will also be competitions for the cutest pet, oldest pet, smallest pet, largest pet and prettiest pet.
In addition, there will be some special pet performances. The Canines in Flight, which is from Georgia and features all rescued animals, will perform. Also on hand will be the Freedom Flyers, a Fayetteville fly ball dog team, plus a team of dancing horses.
While there is a registration fee for the 5K pet walk, all of the other events at Pet Fest are free. The only restriction is that all pet owners have their animals leashed or contained somehow.
"I want owners to respect other pet owners,'' West said. "It's a free event for all ages. Enjoy yourself.''
Contact West at 509-901-3467 with questions about Pet Fest.
Photo Credit: Adam Griffith on Unsplash