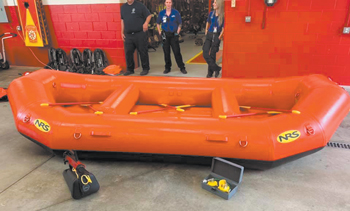 It's been a little less than 10 years since the Gary Sinise Foundation lent a helping hand to the Cotton Volunteer Fire Department. The charitable organization was founded by Sinise, the actor known for roles in "Forrest Gump," "The Green Mile" and "Apollo 13." Now, the foundation has once again come to the aid of the Hope Mills fire station to help upgrade its equipment and ability to perform a wider variety of rescue operations.
Cotton Deputy Chief Hank Harris said the Sinise Foundation helped Cotton obtain a new inflatable boat for water rescue operations, along with an assortment of other rescue equipment.
Cotton's first encounter with the Sinise Foundation took place about seven years ago following a tragic triple fatality fire. Harris said the foundation learned about the fire and reached out to the Cotton Fire Department to see if they could donate some equipment to help out.
"They were more than generous,'' Harris said.
The latest help from the foundation is the result of Cotton Fire Department's growing need for a better ability to handle water rescues.
Harris said this need has grown because of an increase in localized flooding from heavy rain. Another factor has been the threat of widespread flooding in the area spawned by hurricanes.
The new rescue boat is a small model that can be quickly inflated and used in areas that are hard to access. Larger boats that need to be carried on a trailer, Harris said, don't work for tight spaces. He cited farm ponds as an example.
Among the additional equipment obtained thanks to the Sinise Foundation was a rope gun, which can be used over long distances like a flooded river or creek. The rope gun allows firemen to set up lines to help bring people to safety.
The remainder of the new equipment includes personal protective equipment for the firefighters who have to get in the water. Items like dry suits, thermal suit liners, helmets, gloves, boots and personal flotation devices are all part of that gear.
Harris said Cotton Fire Department got a list of prices for the assorted gear from their vendor. The Sinise Foundation paid the vendor directly, and the equipment was then shipped to the fire department.
Most of the firefighters are already trained in the use of the new equipment, Harris said. The few that aren't will get in-house training and certification training at a later time when it's available.
Harris said there aren't a lot of resources of this nature in county firefighting stations. "We're trying to up our game a little bit where our resources and equipment need to be,'' he said. He added that Cotton would have eventually been able to purchase the equipment with its own money, but there would have been a considerable wait.
"It would have been a little bit here, a little bit there,'' he said. Harris praised the work of Sinise and his foundation. "The foundation itself means a lot to first responders,'' Harris said.
In addition to first responders, Harris said Sinise strongly supports military groups and builds houses for veterans. "He's an amazing guy,'' Harris said.