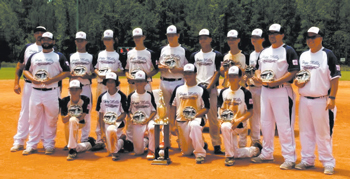 Richard Martinez has already taken an all-star team to a Dixie Youth World Series. Next month, he'll take a second trip as he guides the Hope Mills 14U state Dixie Youth champions to this year's series in Aiken, South Carolina.
"It's a very special group of boys,'' he said of his 12-member team.
He told them earlier that he had previously made a World Series bid and there was no reason this team couldn't do the same. "If you all work together as a team, and everybody believes in the 'we' instead of the 'I,' there's nothing to stop you guys from going all the way,'' he said.
The strength of this team could be pitching depth. Martinez said all 12 of his players are capable of throwing strikes, and at least nine of them have the ability to dominate when they're on the mound.
The top hurler so far has been Dallas Capps. He has a 3-0 record in the postseason that includes 13 innings pitched with 16 strikeouts and only three runs allowed.
Anthony Spatorico, who normally is a catcher, shut down Columbus County over five innings as Hope Mills rallied from an early four-run deficit to win 5-4. Garret Smith shut out defending state champion Brunswick County through six innings before being relieved.
At the plate, Capps is the team's leading hitter with a whopping .777 batting average. Brandon Novy is batting .438.
"All the boys contributed greatly,'' Martinez said.
Unlike the other three Hope Mills teams headed to World Series play, which will be in Louisiana, Martinez and his team only have to drive roughly three hours to get to Aiken.
The opening ceremonies are on Friday, Aug. 2, and the first game for Hope Mills is Saturday, Aug. 3, vs. Tennessee.
"These boys are resilient; they never give up,'' Martinez said.
In the time remaining until they leave for South Carolina, Martinez said the focus will be on pitching and bunting. "We missed a lot of scoring opportunities because we couldn't execute our bunts,'' he said. In the last two games, Hope Mills stranded 22 runners on base.
Although they don't have a lot of time — less than a week from the time this story prints — Martinez said the team is going to try to raise as much money as possible to fund the trip.
The tournament ends with the championship game on Aug. 7. "Our goal is to be there on Aug. 7,'' Martinez said.
Players: Nathan Camacho, Dallas Capps, Stephen Kriner, Adrick Murray, Brandon Novy, Jacob Patawaran, Maddox Powers, Garret Smith, William Smith, Anthony Spatorico, Brayden Speis, Jacob Sports
Coaches: Richard Martinez, Blake Smelcer, Joey Smith, Juan Viera