The Hope Mills Boosters American Legion baseball team saw their 2019 season come to an end when Wallace was declared the winner of their first-round Area II playoff series.
Though the series was tied at 1-1, Wallace was declared the winner after back-to-back rainouts of the third game made it impossible to complete the series by the time Legion officials said it had to be over.
Wallace was declared the winner because it was the higher seed in the playoffs, No. 3 to Hope Mills' No. 6.
The finish was especially frustrating to Hope Mills head coach Mark Kahlenberg, who had four pitchers left who hadn't thrown an inning in the series while the Wallace staff had exhausted its pitching after the first two games.
Hope Mills finished with a 10-11 record, which was close to what Kahlenberg predicted before the season began because of the amount of youth on this year's team.
"We're only losing four or five players,'' he said. "That's great. We also picked up Gray's Creek High School this year, which we hadn't done in a while. I hope that will continue in the future.''
Two of the biggest losses will be Cape Fear's Nick West and North Duplin product Colby Bass, who played for the Methodist University.
West batted .500 and played shortstop nearly every game. He plans to walk-on at North Carolina State.
Bass hit .415 and won the team's first-ever Fred McFayden Scholarship. The $500 award, presented by the Massey Hill Lions Club, is named after the late McFayden, a longtime member of the club who helped bring the Lions on as a source of financial support for the team.
Kahlenberg feels the team's biggest problem remains not being able to have players consistently available for games during the regular season.
"We didn't play conference games as well as we should have,'' he said. "We lost three or four games I felt we should have won.''
Kahlenberg said there were multiple nights where the team only had 10 players available as some were on vacation while others were competing for travel ball teams.
"We missed those guys on certain nights and it hurt us,'' he said.
But he's hopeful things will continue to improve next season. Some of the young players who got their first taste of American Legion baseball saw that it offers the chance to play against college-caliber pitching and experienced competition.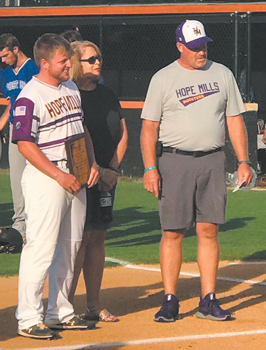 "If we get those kids converted and committed, we don't have to worry about conference games during the season,'' Kahlenberg said. "Hopefully we'll have 15 or 18 there every night. That's how we're going to win those conference games that let us down this year.''
Kahlenberg expressed his thanks to assistant coaches Randy Nalls and Cecil Combs, and especially to the Massey Hill Lions Club for all they've done for the program. That includes the support at games, the scholarship and helping the team buy the bus it used this year to take to road games.
"The Massey Hill Lions have been a big part of turning us around,'' Kahlenberg said. "I think we're headed in the right direction.''
Pictured from top to bottom: Coach Mark Kahlenberg, Nick West, Colby West receiving first the Legion Scholarship