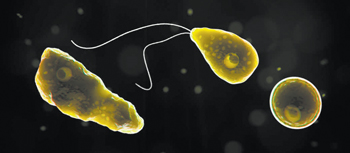 In the wake of the tragic death of a swimmer at nearby Fantasy Lake just outside of Hope Mills, Town Manager Melissa Adams released a statement to Up & Coming Weekly.
Although the lake is located just a short distance from the Hope Mills Town Hall complex on Rockfish Road, it is not within the jurisdiction of the town and is not connected with nearby Hope Mills Lake.
However, the proximity of the lake to Hope Mills and the loss of life that resulted there prompted town officials to make citizens aware of precautions needed when swimming in warm bodies of freshwater during the summer months.
Here is Adams' statement:
First and foremost the Town of Hope Mills would like to offer our sincere condolences to the family of Eddie Gray, the individual who contracted an infection due to Naegleria fowleri and recently passed away.
Infection due to Naegleria fowleri is rare, as evidenced by the reporting of only five cases in the state of North Carolina between 1962 and 2018. The Town of Hope Mills would like to echo the advisory of the Cumberland County Health Department and would encourage everyone to use precaution when swimming, diving or water-skiing in warm, freshwater lakes.
The amoeba cannot be eliminated from freshwater lakes because it is naturally occurring, but the following precautions are recommended.
• Limit the amount of water going up your nose. Hold your nose shut, use nose clips or keep your head above water when taking part in warm freshwater-related activities.
• Avoid water-related activates in warm freshwater during periods of high water temperatures and low water levels.
• Avoid digging in, or stirring up, the sediment while taking part in water-related activities in shallow, warm freshwater areas.
For more information about Naegleria fowleri and primary amebic meningoencephalitis, visit www.cdc.gov/parasites/naegleria/.
If you have questions or concerns, you may contact the Cumberland County Department of Public Health at 910-433-3645 or 910-433-3655.
Computer-generated representation of Naegleria fowleri in its ameboid trophozite stage, in its flagellated stage, and in its cyst stage.