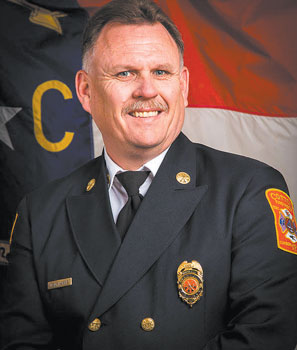 Most people begin to worry about hurricanes when the weather reports grow ominous as a major storm advances on the place that they live.

But emergency personnel like Hank Harris, deputy chief of the Cotton Fire Department in Hope Mills, have to remain focused on storms throughout hurricane season — and not just ones that threaten our local communities.
Cotton is part of a larger group known as Urban Search and Rescue Teams. They work together with the Fayetteville Fire and Police Departments and Cumberland County Emergency Medical Services.
"There are seven teams like it across the state,'' Harris said. "Most of them are in big municipalities. They've got equipment to shore up structurally collapsed buildings. We've got swift-water rescue stuff. They are self-sustainable for 72 hours.''
In past storms, local rescue personnel have been involved with sending swift-water rescue teams to storm-stricken areas.
During Hurricane Dorian, the Fayetteville-area team sent a forklift to the Outer Banks to load supplies at hurricane-ravaged Ocracoke Island.
Harris said the Fayetteville area team also has tents available that can be used to house team members when they are sent elsewhere to serve, or they can be sent to disaster areas to provide an emergency hospital or shelter to feed people displaced from their homes.
In 2017, Hurricane Harvey devastated Houston and southeast Texas, causing $125 billion in damage, mostly from flooding.
Harris said the team from the Fayetteville area sent 90 people to Texas to help with relief during that storm.
"We go everywhere,'' he said.
With the growing frequency of storms every fall in the United States, Harris said it's a good idea for people to not wait to hear bad news on the weather and maintain a basic level of readiness whenever hurricane season arrives in the Southeast.
"It's always good to have a hurricane kit,'' Harris said. You can visit ReadyNC.org on the internet or download the ReadyNC app to your smartphone and get a lot of valuable information there, Harris added.
"It gives you a list of materials you need to keep on hand,'' he said. "You know what happens to all the grocery stores. They start emptying the shelves. You can be a little bit ahead of the game by having some of that stuff already in place.''
Some basics to have on hand include bandaging material, water both to drink and to clean wounds with and enough food to sustain life for everyone in the home for several days.
Harris said it's also a good idea to be aware of what rescue personnel with the fire department can and can't do when a storm hits.

Harris said his agency normally won't respond to situations like a tree falling on a house and simply causing physical damage to the building. They will come out for emergencies like people trapped in a home or car, for rising water and, in some cases, for downed power lines. They try to refer power line situations to the appropriate power company.
"It keeps us from stretching our resources so thin,'' he said, "in times when multiple calls might be coming in."
Harris said the safety of rescue personnel also has to be factored in. "When the wind gets up, it's not safe for us to respond,'' he said. "If the winds are too high for us to respond and something happens to us, we're not helping anybody.''
Pictured: Deputy Chief Hank Harris