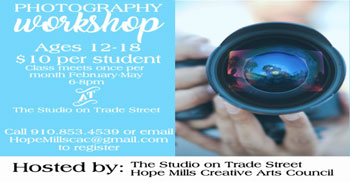 Earlier this fall Sue Moody was looking at some pictures taken by children of her friends that were posted on Facebook when she came up with an idea.

While the pictures were good, Moody wondered if the youngsters might be able to benefit from some expertise provided by people trained in the art of photography.

She spoke with Elizabeth Blevins of the Hope Mills Creative Arts Council and worked with her to schedule a series of presentations for budding young photographers. The classes are scheduled to meet from February until May at The Studio on Trade Street at a cost of $10 per student.

There is a limit on class size so anyone interested needs to sign up as soon as possible by calling 910-853-4536 or emailing HopeMillscac@gmail.com.

Moody said response to the initial class sessions will dictate whether plans are made for other events in the future. She said there has been discussion of sessions for adults.

"We know there is a need in our community,'' Moody said. "Other artists are affiliated with the Creative Arts Council. We just want an inventory to find out what the community wants. We hope people will register soon so we have everything in place and are prepared for them.''

All classes for the sessions with students ages 12-18 will be from 6-8 p.m. Following are the instructors for the initial series of classes and the dates they will be teaching:

Cherri Stoute, Tuesday, Feb. 11 — Stoute owns The Studio on Trade Street. Stoute is a film school graduate who has worked in a variety of roles. She'll study cameras and smartphone cameras with the students and discuss editing.

Elizabeth Blevins, Tuesday, March 10 — Blevins is a member of the N.C. Press Association and the U.S. Press Association. She's been a staff member and contributing writer to four regional publications including Up & Coming Weekly. Her topics will be perspective and photography fads.

Michelle DeHetre, Tuesday, April 21 — For the last five years, DeHetre has worked as the operations manager at The Studio on Trade Street. Based out of Greensboro, DeHetre has a background in portrait photography. Her workshop will cover the topics of composition and improvising backdrops.

Bill McQueen, Tuesday, May 12 — McQueen has called Hope Mills home for 31 years. He is the owner of Response Marketing Group, which offers consulting services to large and small businesses around the country. His topic will be thinking outside the box and putting into practice the instruction students have received during the class.